Graham ready for final
England's James Graham admits he's happy to go under the radar ahead of the Four Nations final against Australia.
Last Updated: 17/11/11 9:02am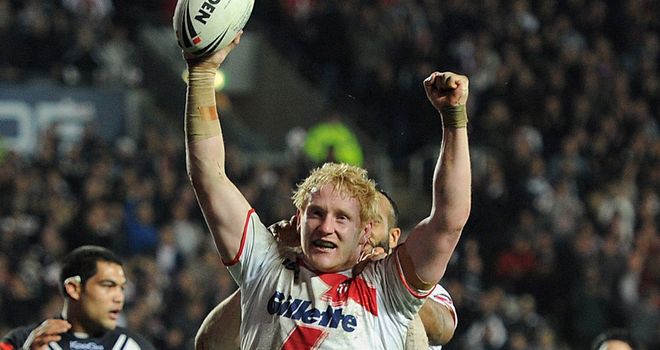 England's James Graham admits he's happy to go under the radar ahead of the Four Nations final against Australia.
Graham will be winning his 23rd cap but, more significantly, making his final appearance on English soil as a Super League player as he prepares to take up a three-year contract with Australian club Canterbury Bulldogs.
However this has largely gone unnoticed with the spotlight fixed on Adrian Morely and Darren Lockyer.
Australian captain Lockyer will hang up his boots after making a record-extending 59th appearance for his country at Elland Road while England's veteran front rower Morley will become the most capped British international when he brings up a half-century.
"It will be a bit weird but I made the decision and one game was always going to be the last," said Graham, who ended his St Helens career with defeat by Leeds in last month's Grand Final.
"It's nothing personal for me, I don't want it to be anything like that. It's all about trying to win with England."
With Graham unlikely to be released by his NRL club for England's mid-year fixtures with the Exiles in 2012 and uncertainty surrounding the end-of-season programme, he has no idea when his next international will be.
England pledge
But the Liverpudlian is determined to continue to make himself available for his country and is hoping officials can build on the momentum generated by a successful Four Nations campaign.
"I want to play for England as much as I can," he said. "It should be the pinnacle of your sport, representing your country. I love playing for England.
"I don't think the administrators have anything sorted out for next year yet but we're starting to get some momentum and we need to build on that regardless of the result on Saturday. We need to go into the World Cup with some momentum."
Graham missed the second half of England's 36-20 defeat by Australia at Wembley after sufference a recurrence of a back spasm but was at the heart of a superb performance in last Saturday's 28-6 win over the Kiwis.
That has put England in good heart for their re-match with the Kangaroos but Graham insists they are not getting carried away with their efforts so far.
"It was a great performance but it will count for nothing if we don't win on the weekend," he said. "Probably no one will remember it.
"We're under no illusions that we need to be better. We need to keep on improving."