Boyd - I'm my own man
Australia's Darius Boyd says he will not try to emulate Billy Slater in this weekend's Four Nations final against England.
Last Updated: 17/11/11 4:15pm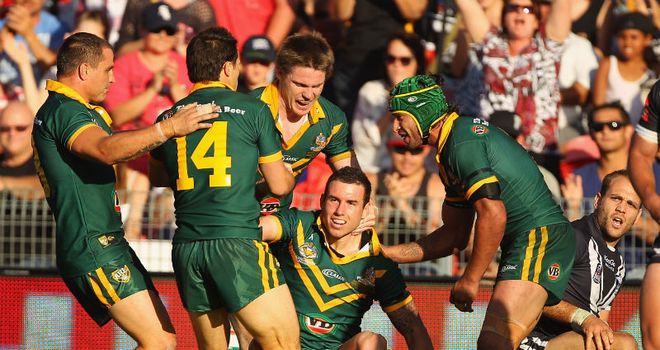 New Australia full-back Darius Boyd says he will not try to emulate Billy Slater in Saturday's Four Nations final, preferring instead to make his own mark.
The 24-year-old has been switched from the wing following the loss of the newly-crowned international player of the year with a fractured collarbone, and is delighted to get the chance to play for his country in his favourite position.
"I enjoy playing full-back," said the Newcastle-bound Boyd, who played in the role for St George Illawarra when they beat Wigan in the World Club Challenge earlier this year.
He has played on the wing for the Kangaroos while acting as Slater's understudy for the last three years, but wore the number one jersey against Wales last Sunday and was named man of the match in a 56-14 victory.
"I really enjoyed it against Wales," he added.
"Not having played full-back for a couple of weeks, I wanted to have a good hit-out before this week.
"Billy's a class act, one of a kind. I suppose I have a different game to him. I'll concentrate on myself and what I bring to the team."
Boyd, who was on the wing for the opening two games, played full-back against the Kiwis in the final group game of last year's tournament in Auckland in order to give Slater a rest. However, he failed to make the 17-man squad for the final in Brisbane a week later.
Opportunity
He knows he will most likely make way for the return of Slater in 2012, but sees Saturday's game against England at Elland Road as an opportunity to consolidate his place in the Kangaroos squad.
"I suppose everyone has to bide their time and it was my turn last year," he said.
"I've really enjoyed getting a chance this year and taking full advantage of it.
"I've never had the opportunity to play in a Four Nations final so I'm really looking forward to it."
Boyd did not watch England's win over New Zealand last Saturday as he took his girlfriend out to dinner - "I forgot it was on" he said - but he has heard all about the performance of Wigan full-back Sam Tomkins, the man who has been dubbed the 'new Billy Slater'.
"He played really well against us too," Boyd said.
"He got through a couple of gaps. He's had a great tournament and we'll have to be on our game to stop him."
Boyd, who scored two tries from the wing in Australia's 42-4 victory over the Kiwis in the one-off Test in Newcastle last month, admits the Kangaroos have yet to hit their best form yet and is hoping they can peak at Elland Road.
"In all three games - or four if you count the one in Australia - we've played good in patches but not for the full 80 minutes," he said.
"If we can produce an 80-minute performance, we'll be very hard to beat."
Squad
Australia coach Tim Sheens followed the example of his England counterpart Steve McNamara in naming a 21-man squad which includes all his available players.
Centre Willie Tonga joins Slater on the sidelines with injury and hooker
Robbie Farah has returned home for family reasons.
In the only anticipated change to the team that beat England at Wembley, Brisbane's Jharal Yow Yeh is expected to take over on the wing in place of Boyd.
Australia squad: D Boyd (St George Illawarra), J Yow Yeh (Brisbane), G Inglis (South Sydney), C Lawrence (Wests Tigers), A Uate (Newcastle), D Lockyer (Brisbane, capt), J Thurston (North Queensland), M Scott (North Queensland), C Smith (Melbourne), P Gallen (Cronulla), S Thaiday (Brisbane), L Lewis (Penrith), A Watmough (Manly), T Williams (Manly), D Shillington (Canberra), K Galloway (Wests Tigers), C Cronk (Melbourne), B Scott (St George Illawarra), D Cherry-Evans (Manly), J Morris (Canterbury), C Parker (Brisbane).