Lockyer - it doesn't get any better
Retiring Australia captain Darren Lockyer signed off in style at Elland Road as he guided his side to the Four Nations title.
Last Updated: 20/11/11 9:46am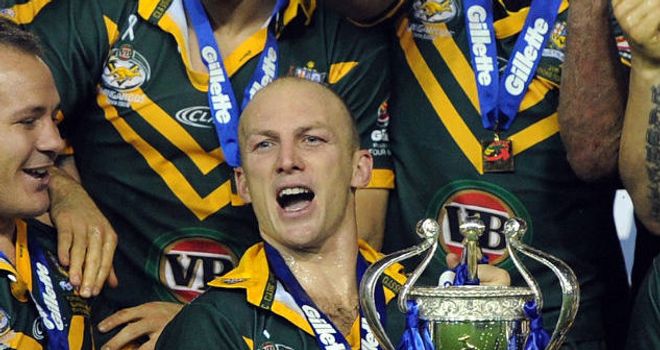 Retiring Australia captain Darren Lockyer signed off in style at Elland Road as he guided his side to the Four Nations title with a 30-8 win over England.
Playing the last game of his glittering career, Lockyer scored the final try as the Kangaroos regained the title they lost to New Zealand a year ago.
The 34-year-old comically sliced the subsequent conversion wide - he had been gifted it by normal kicker and man of the match Jonathan Thurston - but he was unable to hide his joy at the final whistle.
"I haven't kicked for a while!" he told Sky Sports after scoring his 35th try in 59 internationals.
"That was pretty special, scoring a try in my last moment. It's been an enjoyable trip for us. I will miss it, I'd love to keep going forever, but I can't.
"It's been special to my heart playing in England and this stadium has been good to me.
"Win, lose or draw, the atmosphere and the people - it doesn't get any better.
"It's on nights like tonight you want to be on the field. I've had a great time, I've been fortunate to play at this level for a long time and I don't have any regrets. Thank you and goodbye."
Momentum
England had been level at 8-8 at the hour-mark but, as has often been the case in such games, Australia blew them away in the final quarter.
"We were under the pump but stuck at it," forward Gareth Ellis said. "We spoke about carrying momentum but Australia proved to be that little bit better than us tonight.
"We didn't get that many opportunities and we bombed what we got. Against a team like Australia, you need to take your chances. I don't know if that was our best performance."
Australia coach Tim Sheens added: "It was like in 2009 - we needed the last 15 minutes to secure the win.
"Credit to England, it was a great atmosphere and a great game of footy. I'm happy with how our guys played.
"We had to work hard and our composure was great. I knew we'd hold it together."
Missed opportunites
Counterpart Steve McNamara paid tribute to a 'ruthless' Australian side.
"We genuinely thought we had a great shot of winning that game," the England coach said. "We went into half-time at 8-6 and in the second half we missed our opportunities and Australia were ruthless.
"In the first half we had to defend our goalline on so many occasions and I think the England of old would have folded. We conceded after three minutes then didn't concede for the rest of the half.
"Even at 8-6 at half-time we were satisfied with the situation and we probably didn't play as well as we could and we just never found our rhythm in the second half and paid the price.
"We've got to take those opportunities when you get them. The effort was great but we just fell a bit short tonight."