Rugby League World Cup: Tim Sheens knows 2013 tournament will be tough to win
Tim Sheens is playing down Australia's favourites tag, stating the 2013 for the World Cup will be keenly contested.
Last Updated: 21/10/13 5:52pm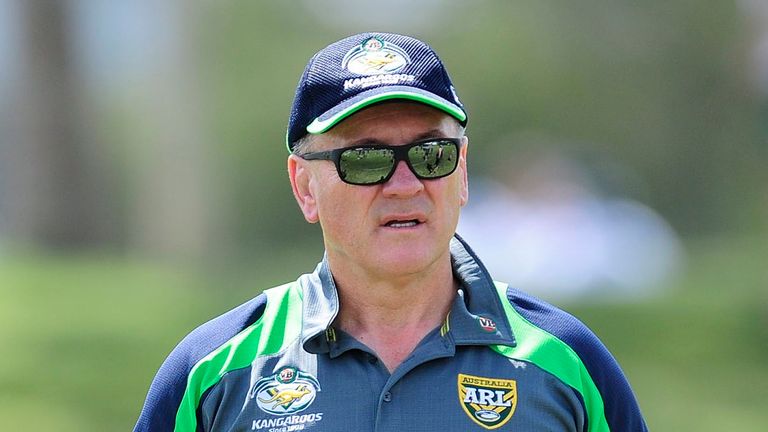 The Kangaroos are the odds-on favourites despite the fact New Zealand won the last competition in 2008 and that the Kiwis have also brought a strong squad to England and Wales.
England are the other main contenders to lift the silverware next month, although Steve McNamara's men were given a wake-up call following their 15-14 loss to Italy in a friendly last weekend.
Sheens insists Australia are not looking ahead to the final at Old Trafford next month, stating their focus is firmly on preparing for England in Cardiff on Saturday.
"For the media and the fans it might be that we're favourites, but I think everyone in the business knows it's going to be a very tough contest. New Zealand to my way of thinking are the strongest I've ever seen them.
"England also, with the form of some of the boys that have been playing in the NRL. Coming back to play for the nation will make them as good as England have ever been. We're ranked number one, but I wouldn't say we're favourites.
Expectations
"The expectation on this team is to try and win the World Cup back. We're not worried about winning the World Cup just yet. We're worried about just our Pool (and) in making sure against England this week we play our best football."
Italy secured the biggest win in the nation's history against England but Sheens, who was in attendance at Salford, is not reading a lot into the outcome.
Australia's head coach is wary of a backlash from the England squad and he knows McNamara's men will raise their intensity in front of a full house in Cardiff.
"If anything it puts me on edge," he said of England's loss to Italy. "If anything an embarrassed team can be a very dangerous team.
"When you're talking about a trial match where England used 20 on an unlimited interchange and Italy used 24 players, conditions poor, and then you talk about a Test match at Millennium Stadium in front of a big crowd, you know it's going to be a different intensity.
"We have a huge respect for England. The English players that are playing in the NRL remind us of that every week. I would like to think we're not complacent. I'll be working very hard to make sure we're not."