Chase coup for England
Rangi Chase has committed his future to England after being named in coach Steve McNamara's train-on squad for the Four Nations.
Last Updated: 03/10/11 12:14pm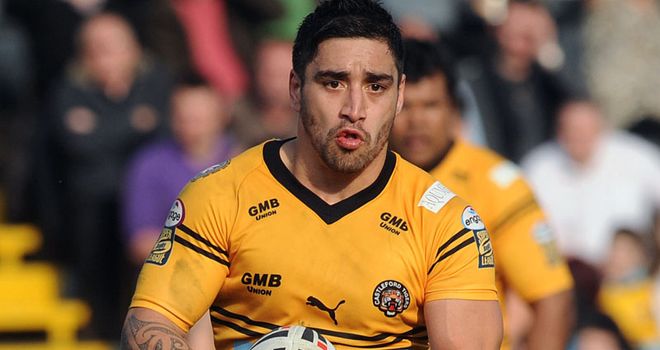 Castleford stand-off Rangi Chase has committed his future to England after being named in coach Steve McNamara's train-on squad for the Four Nations.
The 25-year-old was born in New Zealand but has never played for the Kiwis and now qualifies to play for England on residency grounds.
Chase, who has been shortlisted for the Man of Steel award after a brilliant 2011 season at the Tigers, will join up with the train-on squad next week ahead of the competition in October and November.
"It's excellent news that Rangi wants to play for England and commit his long-term future to our international programme," McNamara said.
"I have met with Rangi and he has shown to me that he is totally committed in playing for England and he can't wait to be part of our plans. It is exciting news that we have a player of Rangi's quality available to us.
Crucial
"His presence will enhance the Elite Training Squad and will add great competition for places, especially in the crucial half-back role."
Chase, who moved to England in 2008, insists that he sees the country as his long-term home after signing a new deal with Castleford recently.
"I have thought long and hard about the opportunity of playing for England after I became eligible to play," Chase said.
"I approached Steve McNamara and explained that I wanted to play for England and more importantly show my commitment. England, and in particular Castleford, is my home now and I want to lay my long-term roots here.
"I have an English girlfriend and signing a new contract with Castleford, last week, was a big deal for me. I don't want to play anywhere else.
"I have resurrected my life in England and feel more at ease here than anywhere else in the world. I spend all my time at home and don't go back to New Zealand in the off-season.
Honour
"Getting selected for England will be my greatest honour. You can feel there is something special being built and I want to do everything I can to help England achieve international success."
The Rugby Football League are in the process of finalising documentation with the Rugby League International Federation that will confirm Chase's eligibility.
He has played against England for the New Zealand Maoris in 2010 and the Exiles in this year's International Origin but could now line up for his adopted country in the Four Nations.
Hi selection is set to again spark controversy over the eligibility process, with McNamara naming Tonga international forward Willie Manu in his train-on squad two years ago and including Australia-born forward Chris Heighington in his Four Nations party this time around.
Meanwhile, Huddersfield prop Eorl Crabtree has withdrawn from the train-on squad in order to have surgery on his shoulder.