Rangi cuts to the Chase
Rangi Chase was not happy with his performance on debut for England, even though he was named man of the match.
Last Updated: 22/10/11 2:17pm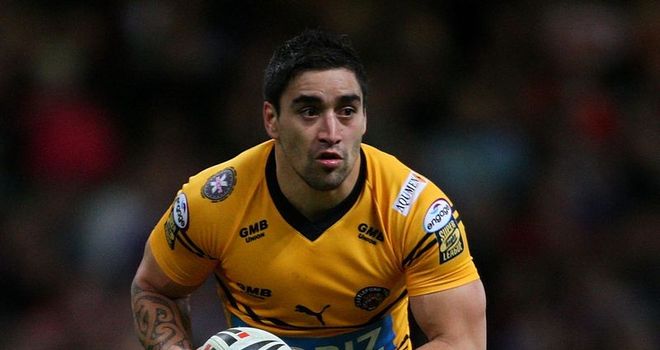 Rangi Chase is looking forward to getting back on the training ground after being left with mixed emotions over his England debut.
The New Zealand-born half-back was actually named man of the match for his display in the 32-18 win over France in Avignon on Friday night, having had a hand in his side's first three tries.
However, the player himself was surprised to be given the award, insisting that he "wasn't too happy" with the way he had performed.
The 25-year-old - Super League's Man of Steel in 2011 - now intends to work hard during the coming week at Loughborough University before England kick off their Four Nations campaign against Wales next Saturday.
Lucky
"I've mixed emotions," Chase said at Avignon Airport as the England team prepared to fly home.
"I was excited that I got an opportunity to represent England, I feel lucky.
"But I wasn't too happy with my own performance. I'm pretty hard on myself. I was a bit surprised I got man of the match.
"I've done some good things and I've done some bad things. I can't wait to rip in next week and work on the things that I wasn't too good at."
Hull winger Tom Briscoe scored a try in each half and centre Jack Reed marked his debut with a 70-metre effort that put the visitors 32-6 in front.
Although two late French tries took some gloss off the win, Chase put the lapses down to England's attempts to force the pace.
"We didn't do too well," Chase added. "We can only improve from here. It's good that we haven't peaked too early, we can build on that.
"We all contributed to them getting back in the game. Jack Reed looked solid but I don't think anyone stood out. We've got a few weeks to improve.
"We had some opportunities, we just needed to do the basics. We tried to force the ball and, if you give them a sniff, they can do anything, which they showed.
"We spoke about getting into a rhythm and building some momentum. We'll have a look at it and see what we've got to do more of and what we need to do less of."
Fresh
It was Chase's first match for six weeks after the Tigers failed to reach the Super League play-offs and he is now hoping to kick on against the Welsh.
"It was good to get the first game out of the way," he added. "It's something I've been looking forward to since coming into camp. It was good to get in a game situation with the boys, I can only improve from that.
"I was fresh. The break had done me good, allowing my body to freshen up. At the end of the season I was playing with a lot of niggling injuries.
"But I felt real fresh going into the game and now I'm looking forward to getting another game under my belt."