Wilkin - There's plenty at stake
New England skipper Jon Wilkin is determined to strike a blow for Super League's home-grown talent in Wednesday's Origin II.
Last Updated: 03/07/12 3:28pm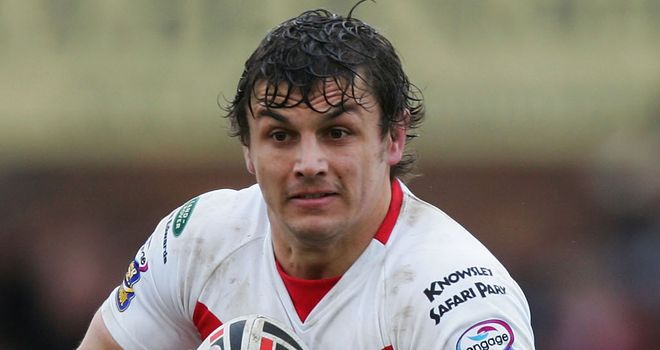 New England skipper Jon Wilkin is determined to strike a blow for Super League's home-grown talent in Wednesday's Origin II at the Galpharm Stadium.
Wilkin wants his team to complete a clean sweep following last month's 18-10 win at Langtree Park to prove a point about the domestic game.
"The result is hugely important for a couple of reasons," said the St Helens forward.
"Financially, there is an incentive for the players to win it and secondly, and probably more importantly, it's about national pride.
"For me, as captain, we represent young English players in our competition and for us to beat the Exiles 2-0 would send a big signal that we don't need to be so reliant on the southern hemisphere for talent.
"The Exiles are keen to prove that they are cut from finer cloth than we are and we are keen to prove that we are capable of surviving in this competition without their involvement.
"From that perspective, it's going to be a physical encounter."
The opening game failed to live up to its billing, but Wilkin is a big fan of the concept and is expecting a more intense encounter this time.
"I think it's something that will grow in time," he said. "We do need a little bit of patience with it. I'm a fan of it.
"I think there is a lot of motivation among the players to play it, which is key.
"I think both sides will aspire to play with a little bit more finesse than in the first game.
"I'm expecting a game of a Test-match standard with an intensity that surpasses that of Super League, which is what this is all about."
Wilkin, who was in the England team beaten 16-12 in the inaugural game against the Exiles last year, was not selected for the game at St Helens but has been recalled and handed the captain's armband following the retirement of Jamie Peacock.
Highlight
"Without doubt this will be the highlight of my career to date," he said. "It's something that I will relish."
McNamara insists he is not experimenting with his team but admits his selection has been made with one eye on the future, with players like Stefan Ratchford, Liam Farrell and Scott Taylor being handed chances to stake a claim for the 2013 World Cup.
"To win a World Cup, we will need not just a team but a squad and this is the next phase for preparing ourselves for the World Cup on the back of Jamie Peacock's retirement," he said.
"And getting the job done in game one gives us an opportunity to look at one or two different things."