McNamara - We are building
Steve McNamara refused to be too downbeat after seeing his young England side suffer a 32-20 defeat at the hands of the Exiles.
Last Updated: 04/07/12 11:21pm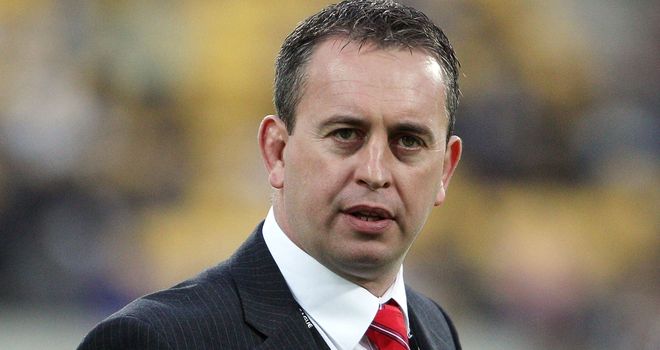 Steve McNamara believes England's rising stars will learn the lessons from their defeat to the Exiles in the second International Origin match.
National boss McNamara saw his much-changed line-up suffer a 32-20 loss at the Galpharm Stadium, meaning the Exiles retain the trophy they won at Headingley last year.
Skipper Hodgson, who missed the first game through injury, scored two tries and kicked four goals for a personal haul of 16 points while winger Francis Meli also touched down twice for Super League's overseas stars.
The hosts were without rested quartet Ryan Hall, Sean O'Louglin, Kevin Sinfield and Sam Tomkins, as well as the now-retired Jamie Peacock.
Building
"We exposed a lot of our young players all at the same time," McNamara said. "They will improve from that.
"If you throw another couple of senior blokes alongside those young people you'd see a different performance and possibly a different result.
"I don't think they're further away at all. This will make them even closer to being selected further down the track.
"We've said all along it's about building a squad and a programme that gives us the best chance of winning the World Cup at the end of 2013.
"I'm grateful to the Exiles. Some or our players have not and will not experience that again until they play another international."
England did manage four tries of their own - Ryan Atkins, Josh Charnley, Tom Briscoe and Leroy Cudjoe all crossing.
However, McNamara admitted his youthful team had been second best
"We weren't good enough tonight," McNamara added. "We were clearly second best. We're representing England so we're disappointed we didn't get the win.
"We felt we had a team capable of doing that and we prepared as if we were going to win that game.
"We didn't get off to the best start. I thought we were a bit shaky and vulnerable at the start and I thought their experience really told in the end."
England captain Jon Wilkin, who took over on a one-off basis from the retired Jamie Peacock, said the match presented an opportunity for some of Super League rising stars to play at a more intense level.
Fluid game
"I've played against Australia and New Zealand and the intensity of tonight's match is up there," he said. "The relentless nature of international rugby is something we struggle to recreate in Super League.
"Games in Super League are often punctuated by penalties and stoppages and come the end of the year it's a more fluid game.
"Tonight there were only two penalties in the game and it mirrors exactly what a Test match is like.
"I know I feel the benefit for it and the rest of the team certainly did despite a disappointing loss."
Exiles coach Daniel Anderson was delighted with the way his much-changed side responded to their 18-10 defeat at St Helens in the opening fixture.
"We made some adjustments," he said. "We had some different personnel but we wanted to represent the Exiles' brand of rugby and that is a skilful brand of rugby and I thought we showcased that in dry conditions.
"Even though we scored points, we had a lot of other opportunities and probably butchered a couple."