George Burgess is hoping to join brothers Sam, Luke and Tom at the World Cup
George Burgess sees no reason why he cannot join Sam, Luke and Tom in England's squad for next year's World Cup.
Last Updated: 16/10/12 4:59pm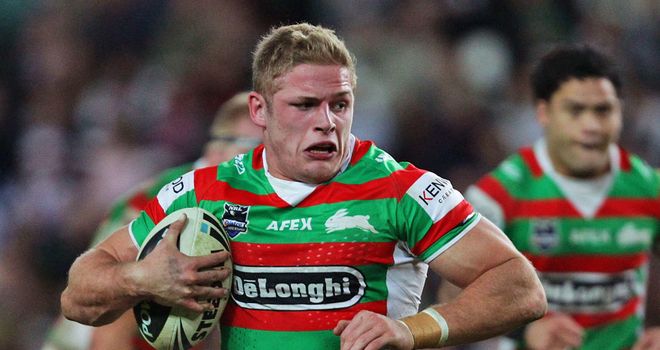 England host the tournament and while Sam is a fully fledged international, Luke is hoping to make his bow in Autumn Series against Wales and France.
George and Tom are both in the England Knights squad to face Ireland and Scotland and it is not inconceivable for the quartet, who will all play for the South Sydney Rabbitohs next year, to also play alongside each other at international level.
"We've spoken about it," said George, who flew back from Sydney last Wednesday to take his place in the England Knights squad.
"It would be a great achievement as a family and it's not out of our reach. We can do it if we put our minds to it."
Superstar
Sam has been playing rugby league in the NRL since joining South Sydney in 2010 and the 23-year-old is a superstar Down Under.
There is no envy from his brothers at his success in the game and George has nothing but respect for his older brother's ability and accomplishments.
"He's a big name in Australia and he's every right to be because of the way he plays," George continued.
"I was honoured to make my debut alongside him and Luke. I suppose there are expectations on us from other people but I try not to worry about that.
"I'm proud to learn from my brothers, they've been very good to me."
Chuffed
George has enjoyed his debut season with the Rabbitohs under ex-Wigan Warriors boss Michael McGuire.
Finishing the campaign with a Knights call-up has added the icing on a very sweet cake for the talented youngster.
"It was always a goal to get into the squad and play some games so I was chuffed to get the call-up," he concluded.
"I've had a really successful year personally under Michael Maguire, who has brought my game on, and now I'm topping it off with England."