Steve McNamara says England still have some room for improvement
England eased to a 44-6 victory over France but coach Steve McNamara was still not completely satisfied
Last Updated: 04/11/12 7:49am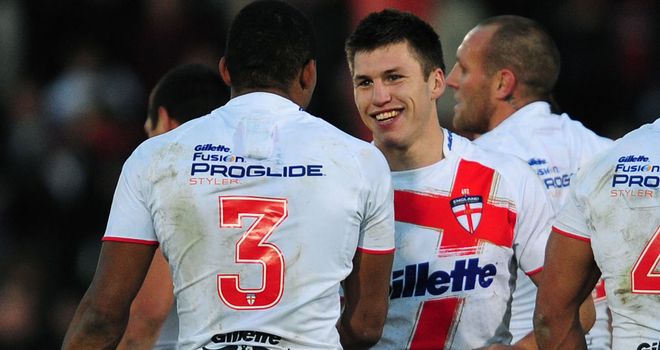 McNamara's side will face France again in the final next weekend in Salford and they will be heavy favourites but the former Bradford coach was not pleased to see them give away seven successive penalties after the break.
"Defensively we were strong, particularly in the first half, but we struggled a little offensively and maybe we were slightly ill-disciplined," he said.
"But what it does do is give us a strong focus for next week and hopefully we can put in a full performance then.
"We gave away a lot of penalties, some of them in and around the ruck. We had a little bit of bad luck with them but we showed some things we need to get fixed up."
England ran in eight tries but could have had a few more were it not for some over-elaboration at times.
And McNamara added: "My assistant James Lowes said we were trying to play like Arsenal and walk it in, when we should have been playing like Stoke and going direct.
"We could have run the ball and gone direct rather than passing. We were just overplaying, but credit to the group for scoring as many points as they did.
"I am delighted with their approach and attitude. We were not perfect, but we will hope for a perfect finish next week."
High tackles
England second-rower Gareth Ellis was put on report for a first-half hit on Cyril Stacul that left the full-back in a heap and the Frenchman later had to be taken to hospital for checks.
French coach Aurelien Cologni described the incident as an "aberration" and felt New Zealand referee Shane Rehm could have done more.
"I was a little frustrated with the ref's decision," he said. "We took some high tackles today but we respect the referee."
France may be weaker in next week's final because Stacul was joined on the sidelines by forwards Kevin Larroyer and Greg Mounis, while Michael Simon suffered a blow to the chest.