England skipper Kevin Sinfield braced for big test against Exiles
Kevin Sinfield has told England to expect a bruising clash against the Exiles on Friday at the Halliwell Jones Stadium.
Last Updated: 14/06/13 7:32pm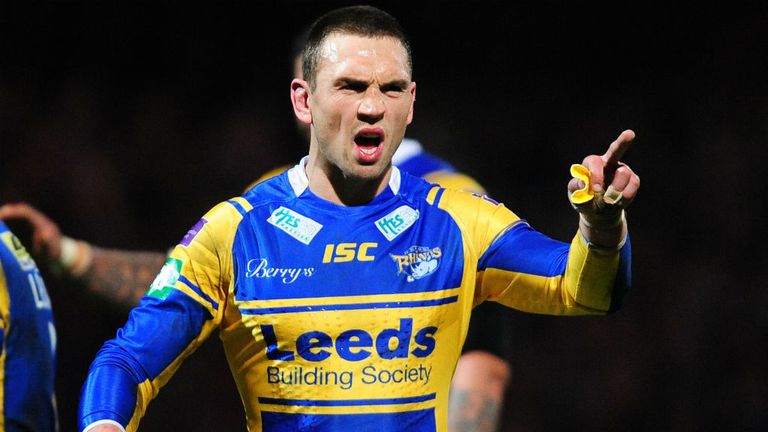 The Exiles have won two of the three matches against England and the one-off encounter is expected to be evenly contested with a host of big-names from the Super League on show.
Sinfield insists his side must be at their best if they are to continue their World Cup preparations with a win at Warrington's Halliwell Jones Stadium.
"It's been a long time coming, he said. "To get another opportunity to wear the jersey is huge for all of us. It's fantastic how the Exiles have come together again and the challenge they bring is huge for our preparation going into the World Cup.
"It will certainly be Test-match standard, in terms of the ball being in play, the physicality Friday will bring and the speed of the game. It will be just like playing Australia and New Zealand.
Quicker
"It is a step up from Super League and I think it will be refereed slightly differently as well.
"Normally in Test matches there are less penalties, the game is a bit quicker and the ball is in play more.
"We are coming up against some of best players in the world and, when you look in our team at the likes of Sam Tomkins and Rangi Chase, there will be some fantastic stars on show."
Sinfield admits England's thoughts are on the World Cup, with just four months until the opener against Australia, but has urged his side not to look past the Exiles.
"That's really important," he said. "We're 2-1 down in the series so it's big for us.
"I think whenever we pull on the England jersey we want to win and it's no different this time. The performance is important too and hopefully we can get both right on Friday.
"The World Cup is in the back of my mind but Friday's game is the most important thing and, if we don't give the Exiles the respect they deserve, they will wipe the floor with us."