2013 Rugby League World Cup: England winger Ryan Hall eyes success
Ryan Hall is ready to bury the disappointment of missing out on the Grand Final and help England to World Cup glory.
By SkySportsPeo
Last Updated: 01/10/13 2:52pm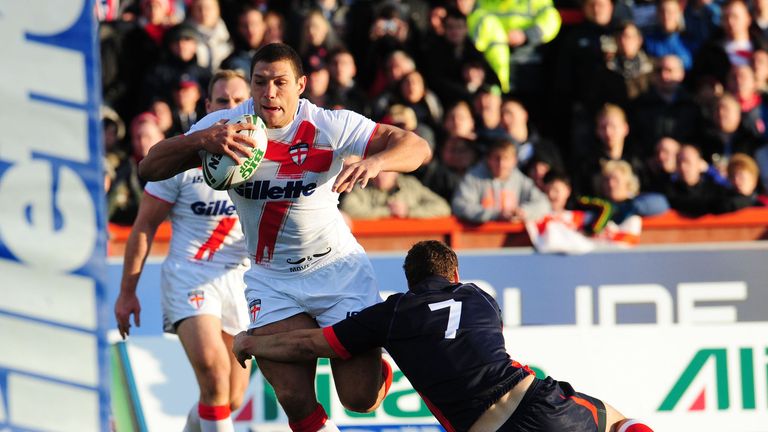 The 25-year-old was named in Steve McNamara's squad for the upcoming tournament, although rather unusually he will not be featuring at Old Trafford for only the second time in six seasons.
Leeds were dumped out of the play-off series by Wigan 22-12 last Friday and now Hall's focus is on England's match against Australia in Cardiff on October 26.
Hall is in good shape despite the Rhinos' epic battle at the DW Stadium and he knows it will be important to forget about what could have been in Manchester and focus on England duty.
"I'm not bad considering we've gone through a hard play-off series. My body is slightly tired, but I'm looking forward positively towards the World Cup," he told Sky Sports.
Watching on
"It's funny, the Leeds lads not being big-headed, but it's one of the few times we've not featured in the Grand Final and it's a bit different for us watch two other sides fight out for it.
"We've got to get past that (the disappointment) quickly and realise that's gone now and there's nothing we can do about that and we have to focus on the competition we've been focussing on with England for the last three years really.
"It's been a big focus point for us, this competition. We're definitely going to go and attack it the best we can."
Hall scored two tries when Australia defeated England 36-20 at Wembley in November 2011 and the Rhinos' free-scoring winger knows consistency will be the key in this year's tournament.
"Tries are always nice. Obviously that was the building block," he continued. "Hopefully we can put a complete performance in throughout the duration on the World Cup and come out on top.
Time to shine
"There's a lot about what's been said about other teams and what players in our team can do, but now it's time for us to go out on to the field and put it all together.
"We've got three weeks to prepare for the World Cup and that's what we'll be doing for the next three weeks, focusing on key personnel in opposition.
"Looking at the whole sides, that's why we're grateful for these three weeks preparation. It would be a bit cold if we went straight into it the week after.
"We've been focusing on this for quite a while. So hopefully all the hard work put in by the coaches and hopefully that'll show out in the players on the field.
"We've not beaten Australia for quite a while now, never mind in a final so it's the perfect opportunity to do it in a World Cup on our home soil."
Gillette has announced its partnership with England's Rugby League Team and is committed to increasing the number of quality Rugby League players through training and education of specialist children's coaches