Rugby League World Cup: England head coach Steve McNamara is confident
England rugby league head coach Steve McNamara is in positive mood after naming his squad for the World Cup.
By SkySportsPeo
Last Updated: 01/10/13 1:52pm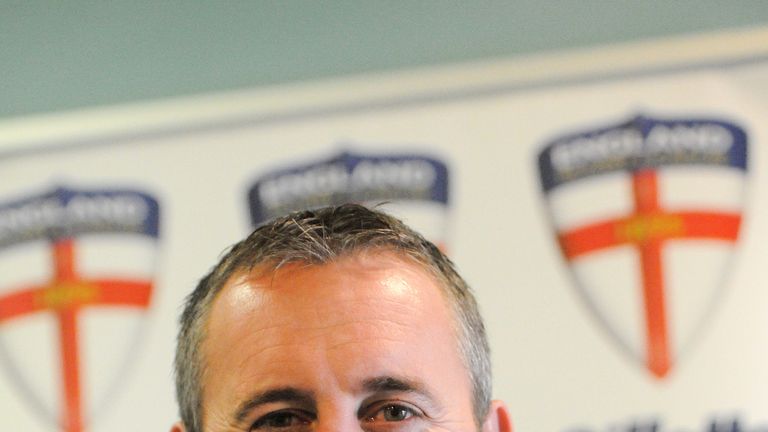 The team will endure high-altitude training ahead of the prestigious tournament which kicks off on October 26 against highly-fancied Australia at Cardiff's Millennium Stadium.
England's non-Grand Final players travel on Wednesday and they will be joined in South Africa by the team's NRL-based stars, including the likes of Gareth Widdop, James Graham and Burgess brothers George, Sam and Tom.
McNamara is hopeful Wigan captain Sean O'Loughlin will be fit to play following an Achilles complaint, while duo Jamie Jones-Buchanan and Jack Reed have been ruled out due to injury.
When asked how things are shaping up ahead of the World Cup later this month, he told Sky Sports: "Pretty good. We've got through to selecting our squad now. We've been preparing for a long period of time for this tournament, picked our squad and now all our focus is on narrowing it down.
Preparation
"Obviously, we go to South Africa on Wednesday, the first group goes out to South Africa to start really preparing for game one which is against Australia.
"We fly out Wednesday late afternoon and they (Australian based players) fly out Thursday morning and so we practically land within a few hours of each other in South Africa on Thursday. So we'll all be together, the Australian based players and the England based players - apart from our Grand Final players who will fly out on Monday.
"We've lost a couple (to injury) in terms of initial selection. Jack Reed and Jamie Jones-Buchanan were two players who were unavailable and we've probably just got Sean O'Loughlin in the squad who's currently not fit to play. But we're hoping with the time we've between now and, well, the start of the tournament, but even if it's not the start of the tournament, during the tournament. Like I say he's a very important member of our group.
"Whilst we've been in the fall-out programme the players have really been staying physically fit, that's been the aim of it, to keep them up to speed so they don't drop off their fitness levels - to stay strong, to stay healthy. We've been doing some elements of skill but no tactical work. That will start and we'll start to narrow our focus down once we get to South Africa and start preparing for a specific game rather than just staying fit and healthy.
"Some of the games (in the play-offs) have been outstanding. We've had a couple of blow-out scores, which was disappointing, but I think the games like St Helens and Leeds, Wigan and Leeds at the weekend have been as good a standard of rugby league you'll see in the world."
Star man
England have been without star man Sam Burgess in the past and McNamara is delighted the former Bradford Bulls ace will be part of this year's squad.
When questioned about the value of the NRL-based players in England's squad and the role they will play this month, he replied: "They're outstanding players, all of them.
"They've held their own in the NRL, not just held their own, they've been stand-out players so we've very excited about the prospect of those people joining up with us. I think when you put what we've got across here with what our Australian based players have got, I've got a very potent mix.
"You always know you're going to suffer injuries. The game's brutal, it's so physical that you're not going to get to the end of the season with every player fit and available.
"Sam (Burgess) is a world class player and we have missed him the last couple of years through injury but he's fit and available. I probably won't be fully happy until I see him step off that plane in South Africa, he's going to be a great asset for us."
Gillette has announced its partnership with England's Rugby League Team and is committed to increasing the number of quality Rugby League players through training and education of specialist children's coaches