Rugby League World Cup: Kevin Sinfield looking forward
England captain Kevin Sinfield says focusing on the World Cup is a nice distraction after suffering play-off defeat.
Last Updated: 02/10/13 3:37pm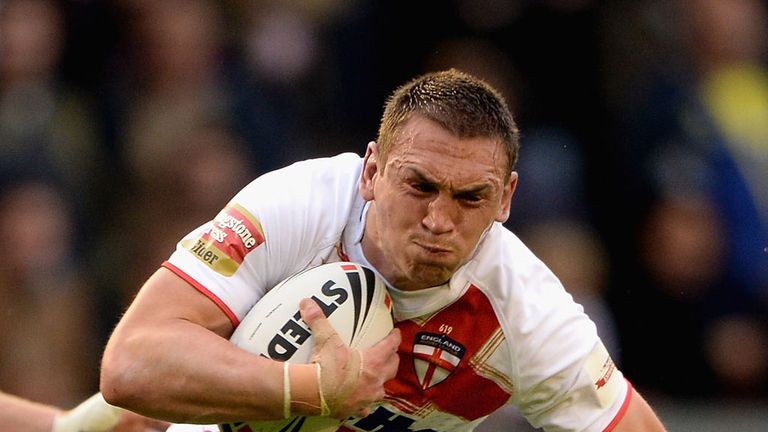 Steve McNamara's squad are heading out to South Africa to prepare at altitude and in warmer conditions ahead of the Rugby League World Cup later this month - and the trip has come at a good time for captain Sinfield.
Leeds Rhinos suffered play-off semi-final defeat at the hands of Wigan, and to get his mind off missing out on the Grand Final Sinfield is happy to throw himself into the England build-up.
"We're about fly out to South Africa for our training camp at altitude and all the guys are really excited now," Sinfield told Sky Sports News Radio.
"Obviously I'm disappointed getting knocked out of the play-offs with Leeds, but our attentions have to turn now to getting ready for this World Cup.
Disappointment
"There's some disappointment still, but having said that we got beaten by the better team on the night, we gave it our best shot, you could see the lads were out on their feet at the end.
"It's really disappointing, and it'll be sickening watching the Grand Final this Saturday night, but I guess that's the beauty of sport - one minute you're on a high and the next you're knocked down. But being announced in the England squad on Monday was fantastic and it gives you a new focus.
"It's good to get away as a team. You spend the season bashing lumps out of each other but now we've got to get together.
"The unity is fantastic and we're just going to get some quality training in with some fantastic surroundings and a bit of sun as well."
Coach Steve McNamara has made history by including three brothers in his England squad, with Tom, George and Sam Burgess all named in the 24-man party, but the addition of the trio has already caused confusion amongst their team-mates.
Lookalikes
"I've thought about this already, I'm not quite sure what we're going to shout at them," admitted Sinfield.
"I don't know how we're going to tell them apart, I suppose there must be a way but we're just going to have to call them the same name aren't we!
"Sam in particular is a big part of what we're trying to do, he's not been available for selection the last couple of years with injury.
"But his form in the NRL and what he's done for England in the past has been outstanding, so to have him back in the group is great and to have the three brothers there brings an enthusiasm and a youthfulness I suppose.
"But they've been tearing up trees in the NFL so to have them all as part of the squad is fantastic."
Kevin Sinfield was launching the new Heinz BIG Soup Fiery Chicken & Chorizo flavour, chosen by the public during the 'Heinz BIG Flavours - You Decide!' campaign. The new BIG Soup is now available in Morrisons nationwide. Heinz BIG is Official Partner of the Super League.