2013 World Cup: James Roby cannot wait for this year's tournament
James Roby is hoping to turn this season's injury nightmare into a positive ahead of the World Cup.
By James Pearson
Last Updated: 07/10/13 9:41am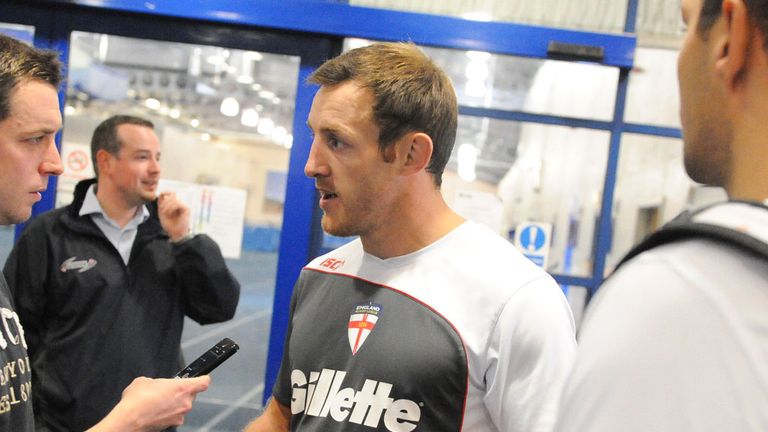 Roby has missed large chunks of the 2013 Super League campaign after injuring both of his ankles, the second time requiring surgery in July that meant a 10-week lay-off.
The 27-year-old made his return a month ago and the 2007 Man of Steel winner insists the additional breaks means he is chomping at the bit ahead of England's cup opener against Australia on October 26.
Roby is in South Africa for England's high-altitude training camp with Saints not involved in last Saturday's Grand Final, and the hard-working no 9 cannot wait to don the national jersey again.
When questioned on his current level of fitness, Roby told Sky Sports: "I'm good, obviously I've had two injuries to both ankles, had two operations, so I've had a lot of time in the gym doing rehab, watching the lads train, watching the lads play.
"I've not played anywhere near as much as I'm used to playing this year. A bit frustrating at times but I've come back and managed to play three games.
"I like to think I'm getting back into it a bit, match fitness and stuff. I'm sure every lad in the team, if you asked them, would have some sort of problem no matter how big. I'm lucky because of my rest that I can safely say that I feel fresh.
Advantage
"Hopefully I can use that to my advantage and obviously I'm just made up to get with England now. It's a brand new environment, new setting, new lads; it's quite a refreshing change.
"Any chance you get to play for England. When you're growing up you want to play rugby, you want to play for your hometown club and then, ultimately, you want to represent your country.
"I think it's a really proud moment and something totally different to playing for your club. Like I said, it's a new environment, you're in amongst new players and it is a new refreshing change.
"It's just a good chance to be patriotic and represent your country, represent England and there's nothing better than playing in a World Cup on home soil."
Australia and New Zealand are once again the front-runners to lift the World Cup, but that has not stopped Roby from thinking big.
Fitness boost
National boss Steve McNamara has a virtually fully-fit squad to choose from with Sean O'Loughlin fit again for Wigan, leaving him having to make some tough selection decisions over the final cut.
"I'm confident," Roby added. "A lot's been said this year on the squad and how all the players are doing well, especially a lot's been said of the lads who are playing over in Australia," he continued.
"I think that's a good thing really, their obviously the favourites the Aussies and Kiwis. I think the Burgess brothers, James Graham, Gaz Widdop and the likes are probably getting a bit more respect for the English team.
"I think they looked down on us a little bit so it's a good thing what they're doing. Having them in our team is obviously going to bring a few intimidating players into our team, the Aussies are used to playing against them (and) probably don't like playing against them.
"He (Sam Burgess) and his brothers have been fantastic. Sam's one of the marquee players in the NRL and it's a different game over there, the amount of profile and the media coverage and all of that. I think all they're doing over there to represent the English boys is good for England."
Gillette has announced its partnership with England's Rugby League Team and is committed to increasing the number of quality Rugby League players through training and education of specialist children's coaches