Rugby League World Cup: England coach Steve McNamara walks out of press conference
England coach Steve McNamara walked out of a press conference after persistent questions about James Graham's absence.
Last Updated: 26/10/13 2:11pm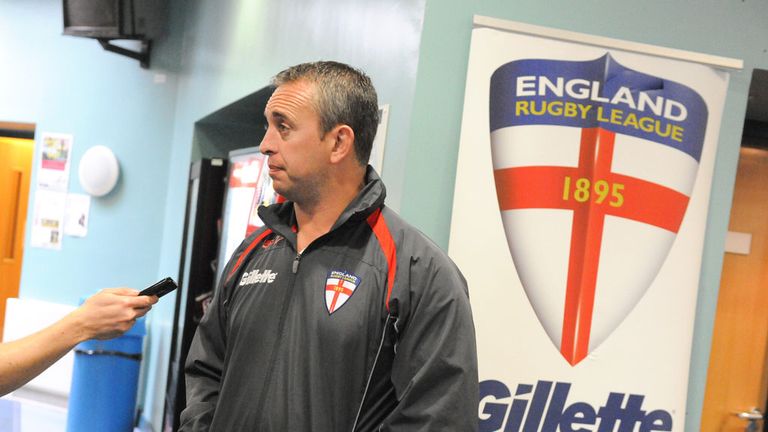 McNamara refused to answer questions about Graham's absence from his 19-man squad as speculation continued over his involvement in the drinking session which led to Gareth Hock's removal from the squad.
He appeared tetchy throughout the session, which eventually lasted only six minutes, and walked out when pressed again about the Hock affair and its effect on his selection.
"There are seven very good players not playing this week," McNamara said. "I'm certainly not going to talk about any individuals among those seven."
When another question about Graham came in from the massed ranks of the media, McNamara's mood worsened and he snapped: "If you're going to carry on that that questioning, we might as well stop now."
After briefly speaking about the match against the pre-tournament favourites, the session ended abruptly when he was asked about the Hock situation, which saw him expelled from the squad for 'serious breaches' of team discipline.
Early exit
McNamara rose from his chair and said: "I've got to go boys any way because the bus is going, cheers, see you tomorrow."
When he was able to speak about matters on the pitch, McNamara admitted the defeat by Italy last weekend was a real wake-up call.
He said: "We're not a team that's good enough yet just to be able to turn up and win international games, particularly against some good players.
"It was a credit to Italy how they performed. They were good, we were awful and we got the result we deserved.
"We will learn from it, We knew this competition would be extremely tough before we came into it. We knew we would have to be at our best and concentrate throughout.
"I'm confident in the group. I'm here to talk about the game, to talk about the team that is selected and is going to out there in a really determined fashion.
"Our concern was our performance last week against Italy and how we rectify it this week against Australia."