Rugby League World Cup: England coach Steve McNamara refuses to blame players
Coach Steve McNamara refused to blame individuals after England's agonising World Cup semi-final defeat to New Zealand.
Last Updated: 26/11/13 6:22pm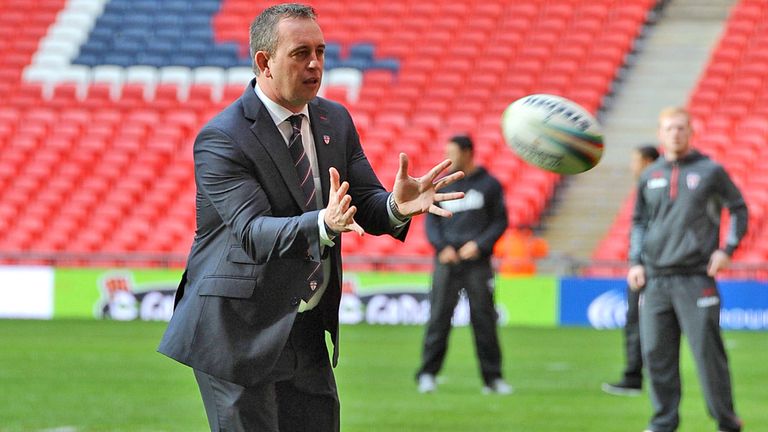 An Old Trafford final beckoned with 21 seconds left as England led the defending champions 18-14, but in the blink of an eye their hopes had been crushed as Shaun Johnson skipped through a gap to score next to the posts.
He still needed to slot the extras but did so with such coolness that he celebrated before the posts were split, practically dancing around the England players who were strewn on the turf as they comprehended a 20-18 loss.
Few could take in the moment which ended a classic encounter but glances at the replays showed a penalty given away by George Burgess - not England's first indiscretion - and a missed tackle from captain Kevin Sinfield which paved the way for Johnson's crowning moment.
But on an afternoon which had looked set to be the defining moment for English rugby league in the modern era, few - McNamara included - were interested in pointing fingers.
"I don't think he (Sinfield) has got anything to blame himself for, he worked his socks off. It would be very cruel to blame anyone for anything after that result," he said.
"I'm not sure what the answer is. You have to move on, there are worse things in life. We are all feeling as though we are as low as we can be, but in reality it's not.
"Worse things happen and we should be privileged we've been part of such a brilliant game. I'm sure we will soon get a reality check and realise we have to move on."
There was no denying it was a cruel end for McNamara, who is now technically at the end of his contract.
Unsure of future
It had been thought he would leave the post if England were unsuccessful - a suggestion which was given greater credibility owing to the amount of disciplinary and selection issues he has faced during the tournament.
In a perverse way, though, this loss could well prove to be the making of McNamara and a side with an average age in the mid-20s, with England bowing out in credit rather than in the meek manner they have in recent years.
"I'm not sure at this stage, it's too early," McNamara said of his prospects of staying in the job.
"I have been focused on giving us the best opportunity (at the World Cup). It's been a pleasure putting this programme together, I have a brilliant staff and great players and it's something I am proud of and not something I want to give up easily."
With barnstorming players such as man of the match Sam Burgess and New Zealand-bound full-back Sam Tomkins at his disposal, McNamara could be forgiven for getting excited about the prospect of taking England Down Under for the 2014 Four Nations.
He knows he cannot look too far ahead at the moment, though, and is concentrating on making sure his charges recover from this loss.
"We are distraught but great credit to New Zealand. This is high-level sport and high-level sport can be cruel. It was for us," McNamara said.
"I'm not going to try and pick them up yet. They've used every ounce of energy they've got. It's raw and we had a brief chat of how tough we've been.
"All of them, every single one, have put their hands up, have prepared brilliantly. They have attacked this tournament. We have dealt with things, maybe other teams haven't. That's what this England team is all about and we've come through the other side and produced a brilliant performance."
Kearney praises character
Johnson's late show means the Kiwis will live to fight another day and will be able to try and defend their trophy in Manchester.
Coach Stephen Kearney admitted he had not been able to watch the try and subsequent goal and, while acknowledging his side were recipients of good fortune, felt they were rewarded for doing it tough in the face of some severe England pressure.
"I was under the desk so I don't know," he said when asked how he dealt with the late drama.
"I was always confident of what we could do if we had a minute to go, had the footy and were down by four. It was the 79 minutes before which were pretty hard.
"We gave ourselves a chance with half a minute to go. If you're good enough, you're good enough. If you're under pressure like we were but don't open the floodgates, you have a chance."