Rugby League World Cup: England's Sam Burgess defends brother George
Sam Burgess has sprung to the defence of his brother George for his role in England's last-gasp defeat by New Zealand.
Last Updated: 24/11/13 2:14pm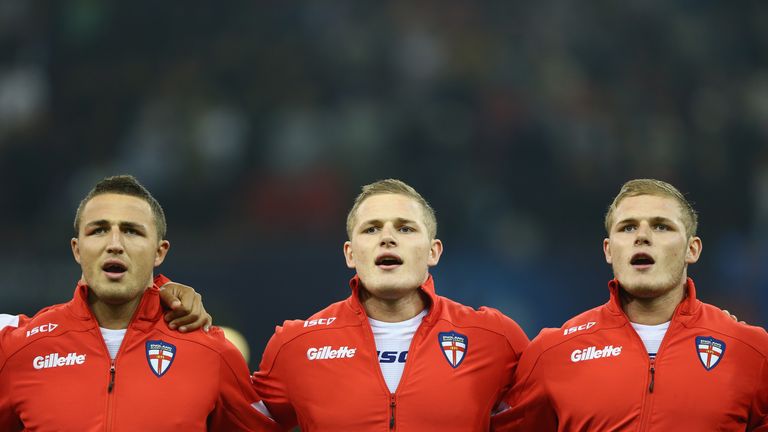 England were clinging to an 18-14 lead going into the final minute of Saturday's World Cup semi-final at Wembley when George was penalised for a high tackle on Sonny Bill Williams.
That gave the Kiwis the position to launch their match-winning play, with Shaun Johnson slipping the attempted tackle of onrushing England captain Kevin Sinfield and wrong-footing George Burgess to go over for a try with 21 seconds left on the clock that tied the scores. He then added the goal to seal a 20-18 victory.
A distraught George, 21, declined interviews after the match but 24-year-old Sam was happy to stick up for his brother.
"George is a strong kid, he'll be fine," he said. "It was one penalty.
"There are going to be people wanting to point fingers but it's a full team effort. There were 17 men involved in this game and it was not won and lost in the last 20 seconds.
"There are so many situations and events that happen in the game that have an impact on the result. There'd be a thousand different things out there that if you could change, the result would be different, but that's sport and that's why it's so entertaining for the fans."
Glowing praise
Burgess' tremendous 80-minute performance, capped by scoring England's third try on 66 minutes which restored their lead, earned him the man-of-the-match award and glowing praise from former captain Jamie Peacock, who described it as the best by an England player in 20 years.
"The result probably takes over that one," Burgess said. "I draw a lot of inspiration from JP - I remember making my debut alongside him - and I appreciate his comments but I'd much rather swap the victory for any personal accolades.
"Sometimes you probably don't get out what you deserve and I feel tonight is one of those days."
Meanwhile, Burgess, who is thought to be the likely successor when Sinfield steps down as captain, has given his backing to coach Steve McNamara, who is considering his future after his contract with the Rugby Football League came to an end with England's World Cup exit.
"Steve is great," said the former Bradford forward. "I've had him all through my career since being about 17 so he's a great man.
"Steve will make his own decisions so we'll have to wait and see but he's been fantastic throughout this tournament."