Chase and Marshall 'still mates'
Rangi Chase insisted he was "still mates" with Benji Marshall despite the pair clashing during England's 28-6 win over New Zealand.
Last Updated: 13/11/11 2:06pm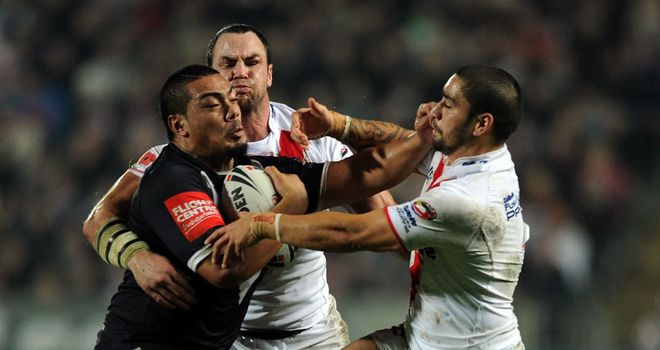 Rangi Chase insisted he was "still mates" with Benji Marshall despite the pair clashing during England's 28-6 Gillette Four Nations victory over New Zealand.
Marshall described Chase, who has opted to play for the Red Rose rather than his homeland, as his "brother" in the lead-up to the tournament.
But the former housemates put that to one side as England booked their spot in Saturday's final against Australia with a comprehensive victory in Hull.
Chase and Marshall squared up twice in the first half of a fiery encounter, but the former said later: "We're still mates, no matter what happens on the field.
"We had a bit of a dust-up there, a couple of run-ins at times. But he's upset because I'm not playing for for them and am on the other side.
Understand
"I fully understand how the boys feel, but I have my reasons why I'm here. I've said them all along from the start."
Chase, who left the stadium clutching Marshall's shirt after spending time in the New Zealand dressing room after the game, added: "I expected that they would (try and intimidate him). They're passionate and I will step up to the challenge any time.
"There are no ill feelings. What happens on the field has to stay there, I knew it was going to come. I just have to rise to the challenge and raise my game. It was expected."
A partisan crowd of 23,447 were treated to a dominant England performance with tries from the outstanding back three of Sam Tomkins, Ryan Hall and Tom Briscoe, as well as one from James Graham, blowing the Kiwis away.
Chase added: "It was a good feeling, we stuck to the game plan and we knew if we stuck to it we could come up with the win.
Belief
"We stuck to the plans, ground it out and had the belief in our squad that if we stuck to it we would come out with the points that we needed."
With New Zealand set to fly home on Tuesday, all questions of Chase's heritage will now be put firmly aside, but he did admit to enjoying being on the other end of the Haka, the war dance he himself has previously led.
"It was an unbelievable experience, really good," he said.
"It was unusual because I'm used to being on the other side of it and doing it.
"Facing the Haka was pretty special for me. I love it and stood up to the challenge and got on with the game. It was one of those ones that you will remember for the rest of your life."