Rugby League World Cup: Stephen Kearney disappointed with opening performance
New Zealand coach Stephen Kearney said he was disappointed with his side's performance in their 42-24 win over Samoa.
Last Updated: 27/10/13 11:06pm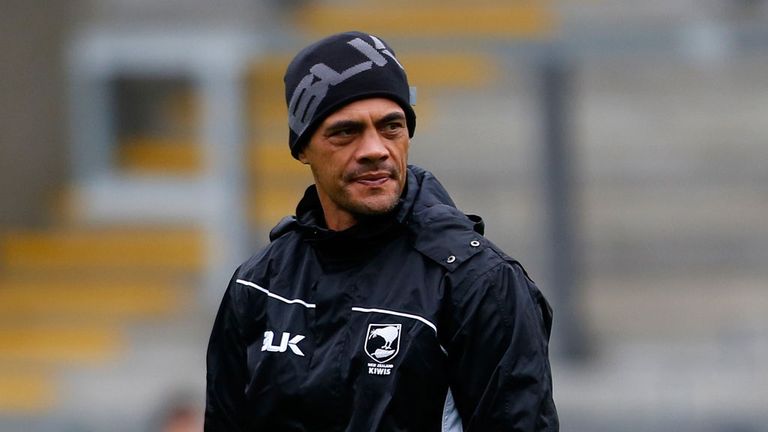 However, Kearney played down his side's humiliation, preferring to give credit to the Samoans for their role in an enthralling encounter that delighted the sell-out crowd of 13,965 at the Halliwell Jones Stadium.
"I wouldn't say it was embarrassing," Kearney said. "I think it was disappointing.
"The Samoan side played with a lot of energy and enthusiasm through that period and put some tries on us.
"We dropped some balls and they gained some momentum. We didn't see a great deal of possession for 20 minutes.
"There were some good parts of the game for us. When we stuck to our structures and processes, we built some really good pressure and came up with some pretty good plays."
Simon Mannering's men were strolling to victory after scoring at a point a minute throughout the first quarter and they led 36-4 until collapsing in dramatic fashion to concede four tries in 13 minutes.
"We definitely lost our way for a pretty long period of the game," Mannering said. "Everything they threw at us came off and everything we tried didn't seem to work.
"They played very well but we've got to be disappointed with the way we defended. It's obviously not a good enough performance to carry on in this tournament. Hopefully it gives us a shot in the arm."
Fantastic
The Samoans were hammered 52-16 by England Knights in their warm-up fixture and looked to be heading for another rout after a one-sided opening before bringing the crowd to life with their remarkable fightback.
Samoa coach Matt Parish said: "That's what I hoped for and expected. I know I've got a good bunch of boys here and they're only going to get better as the tournament goes on.
"When they played well and brought the crowd into it, they rose to the occasion. The Warrington crowd was fantastic. I was touched to hear them sing Samoa and I'm sure the boys were too."
Soliola added: "I've got to thank the Warrington crowd, it was touching, it was unreal, I can't explain it."
Samoa lost stand-off Reni Maitua (hip) and second rower Frank Winterstein (chest) with injuries early in the game but Parish is confident Harrison Hansen will return for his side's next match against Papua New Guinea next Monday.