Rugby League World Cup: Australia prop James Tamou looks ahead to the semi-final
Australia prop forward James Tamou says the Kangaroos do not underestimate their World Cup semi-final opponents Fiji.
Last Updated: 20/11/13 3:54pm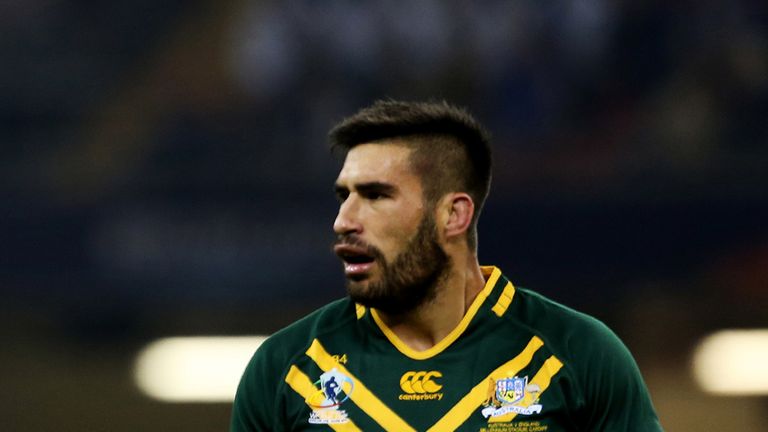 The Aussies will be red hot favourites in Saturday's semi-final at Wembley, but North Queensland Cowboys star Tamou says the Fijians have impressed them.
Australia won 34-2 when the sides met in a group match in St Helens earlier this month but Tamou believes the Pacific Islanders have improved significantly since that day.
"They have a physical side," he said. "I watched them against England and they were a whole different team. It was just a shame they let up early in the second half and England ran away with it.
"But they have a big physical side and they do have some class in the backs, too. They are definitely going to be a more improved side from the first time we played them.
"With it being a semi-final, they will definitely step up. We really need to bring our A game and be ready for them."
The Fijian pack will be led by the Sims brothers, Ashton and Tariq, who are team-mates of Tamou at the Cowboys.
Passionate
"They're passionate boys," Tamou said. "They're passionate about where they're from and they're passionate about their families.
"They leave nothing on the field, especially Ashton. He gets right into it, he's very emotional. He'll be one of their go-forward players this weekend."
Tamou, who went into the tournament with just three caps under his belt, has started all four matches so far and is delighted there is no let-up for him.
"I'm glad it's happened this way," he said. "It's hard to watch the boys play when you're sitting on the bench. You get the itchy feet.
"The coach has got confidence in me and I'm pretty good with my body. I do all the little things right to recover and I'm pretty happy to go right through the tournament and hopefully play the final if we make it."