World Cup: Danny Brough in Scotland's plans, says coach Steve McCormack
Scotland coach Steve McCormack has confirmed that Danny Brough is in his World Cup plans, and could captain the side.
Last Updated: 05/06/13 3:44pm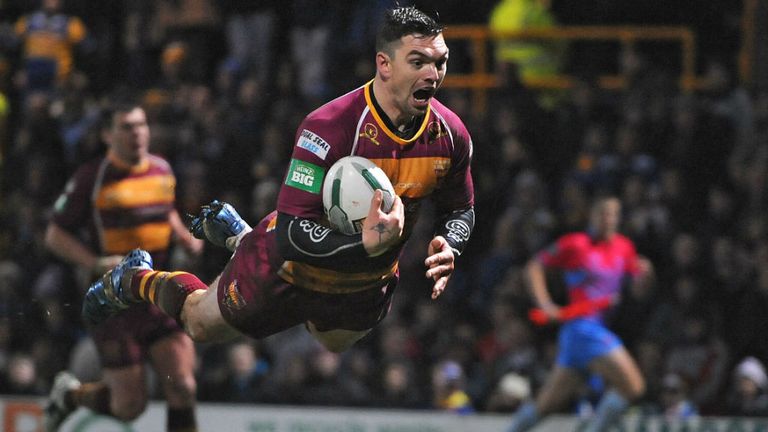 Brough made himself unavailable for England after becoming disillusioned over his treatment by coach Steve McNamara.
The 30-year-old, who has a Glaswegian grandfather, captained the Scots in the 2008 World Cup before being persuaded by McNamara to switch his allegiance.
However, the Huddersfield Giants skipper made just one appearance for England, and frustrated by his lack of opportunities, he will be welcomed back into the fold by McCormack.
"This is my 10th year with Scotland and ever since I took over, Danny has showed a massive commitment to us," said McCormack.
"I've kept in regular touch with Danny and we spoke only last week.
World-class
"We haven't picked the squad yet and we certainly haven't chosen our captain but we want as many world-class players as we can and Danny fits that bill."
McCormack has selected an initial squad with his assistant Dave Rotheram and the rest of the management staff, who are currently verifying eligibility.
A number of NRL-based players with Scottish heritage have approached McCormack and he says his final squad will contain a blend of home-grown and international talent.
"We certainly have to have a stronger squad than last year but we've a very loyal band of players and it's a matter of getting the right balance," he said.
"We've had some people put their hands up in the NRL and Super League and I think people will be surprised when they see our squad."
Talks
McCormack confirmed he has spoken to London Broncos' Michael Robertson, who played in the 2008 World Cup while with Manly Sea Eagles, and Catalan hooker Ian Henderson, who lined up alongside brothers Kevin and Andrew five years ago.
The Torquay-born brothers, who have a Scottish father, made history by playing for one country at the same time but are unlikely to repeat the feat this year.
Andrew, the Sheffield Eagles hooker, is likely to figure in his second World Cup alongside Ian but Kevin, formerly with Wakefield and Leigh, is now playing country rugby league in Australia.
Like Brough, Ian decided to switch his allegiance to England and was named in McNamara's elite training squad last year but never made it as far as the team and has pledged himself once more to Scotland.
The Scots have finalised their training bases and are hoping to confirm a warm-up match against Papua New Guinea.