Rugby League World Cup: England winger Ryan Hall targets win over Australia
Ryan Hall will be aiming to consolidate his reputation as the world's best winger when he goes up against Australia.
Last Updated: 26/10/13 2:14pm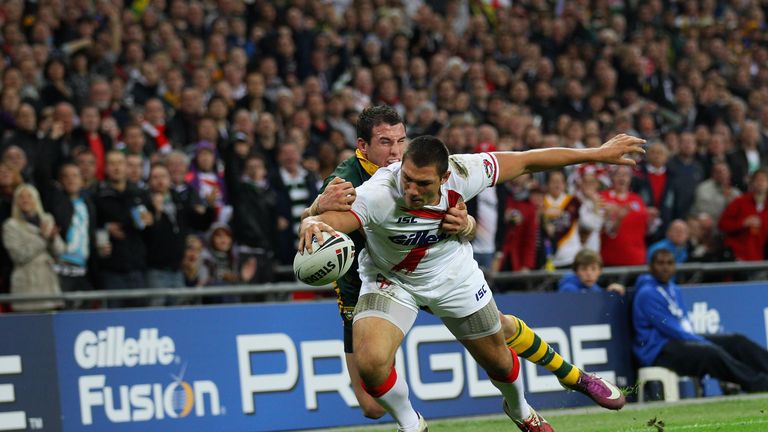 England's World Cup opener against the Kangaroos at the Millennium Stadium will bring the memories flooding back of Hall's finest hour, his superbly-executed two-try display against them in the Four Nations Series at Wembley two years ago.
It elevated him onto the world stage and he confirmed his status shortly afterwards with a 95 metre try against Australian champions Manly Sea Eagles to help Leeds become world club champions.
And Hall, who has scored 13 tries in 15 appearances for his country, is hoping once more to be in the spotlight.
"A lot of people have mentioned the tries I scored in 2011 at Wembley," he said.
"Obviously that was a great stepping stone in my life. It kind of set the ball rolling for a lot of things happened quickly after that with my profile being lifted.
"So obviously there are fond memories from a personal aspect but the objective was to win the game and obviously we didn't do that. Hopefully there is no better stage to put that right this year."
Blessing
Hall, who turns 26 three days before the World Cup final at Old Trafford on November 30, is one of three specialist wingers in England coach Steve McNamara's World Cup squad and looks certain to once more line up against the Kangaroos, despite losing his place in the Super League Dream Team this year.
"I think I've been going alright," he said. "If you look at the stats and the tries, it's not been as good as previous years - my centre Joel Moon has scored more tries than me this year - but I'm not too disheartened about that.
"There are a lot of other aspects of my game I've done well at."
England will move camp from Loughborough to Cardiff, aiming to leave behind the problems that have dogged them since they returned from a training camp in South Africa.
McNamara will be keen to draw a line under the Gareth Hock affair while Hall is confident his side's embarrassing defeat by Italy last Saturday was nothing more than a blip.
"It could have been a blessing in disguise by highlighting some aspects we weren't great at," Hall said. "We've got the blip out of the way.
"Every player has gone through it at club level. We've been aiming up quite a while for Australia. We wouldn't be human if we didn't think about it."