Rugby League World Cup: Australia identify Sam Burgess as main England threat
Australia have identified Sam Burgess as England's main threat in Saturday's World Cup opener in Cardiff.
Last Updated: 26/10/13 2:14pm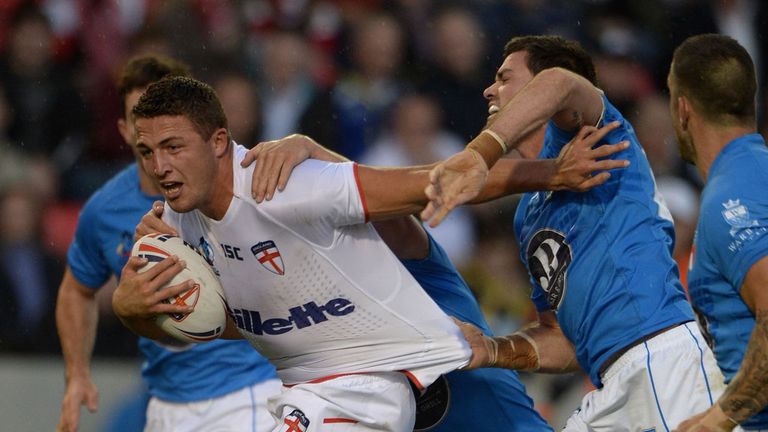 The 24-year-old South Sydney forward has been compared to New Zealand star Sonny Bill Williams by Kangaroos coach Tim Sheens.
"Sam is without doubt the quality player in that pack. He was all class the other day even in that loss (to Italy). You could see when he put the foot down, he was a handful," said Sheens.
"Burgess is to England what Sonny Bill is to New Zealand. He's the class player. They provide the x factor for those teams."
Australia captain Cameron Smith is also acutely aware of Burgess' threat, having faced him at club level over the last four years.
Wonderful
"He had a wonderful season in the NRL," Smith said. "The South Sydney Rabbitohs almost made it to the Grand Final and a lot of that was off what the Burgess boys bought to the side.
"He's a big man and he plays good minutes for a big man. I think he'll be looking forward to representing his country."
Australia will go into the opening fixture as one of only three of the 14 teams not to have taken part in a warm-up match but Smith is happy with the decision of the management.
"There's been a bit of talk about that," he said. "A few guys have not played for a while but I think in a way that's been a blessing in disguise.
"Nearly every player in our squad has had big seasons and been involved in State of Origin so we've played plenty of football during the year to get us ready for this game.
"Everyone is feeling really fresh. We've had a couple of solid sessions since we've been in the UK and everyone has pulled up really good. We're looking forward to getting out on the field and playing this first match against England."