Rugby League World Cup: England hooker James Roby targets upset
James Roby is hoping he can help turn the clock back when England open their World Cup campaign against Australia.
Last Updated: 26/10/13 2:11pm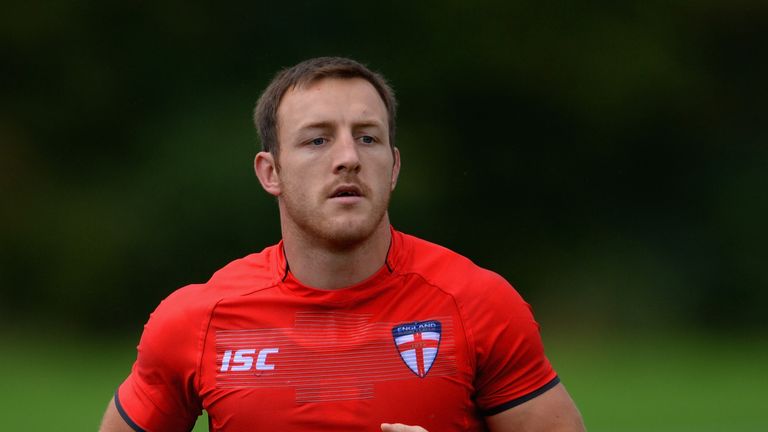 The St Helens hooker is the only player in England's 19-man squad with experience of success against the Kangaroos, having played in Great Britain's 23-12 triumph in the 2006 Tri-Nations Series in Sydney.
Roby and his opposition number on Saturday, Australia captain Cameron Smith, were both on the bench for their teams that day as Brian Noble's men upset the odds to gain a first win on Australian soil for 14 years.
"Obviously that was a great win," Roby said. "I remember it being a great feeling.
"It was in Australia and the press had been on our backs a lot. We had been written off.
Re-ignite
"People didn't expect us to do much so to turn them over in Sydney shut a few people up."
Roby can sense the similarities this time, especially after a traumatic build-up which included an embarrassing defeat by Italy, the axing of Gareth Hock and the shock absence of his old St Helens team-mate James Graham which have seen the odds stack up against Steve McNamara's men.
"The Australian press always write us off and I think the English press as well, to be honest," Roby added. "They don't get behind us as much as they could.
"At the end of the day it's up to us as players to go out there and perform and hopefully, if we can turn it around and get the win, then we can turn a few eyebrows and earn that little bit more respect and change people's opinion.
"It would re-ignite the game over here."
Fresh
The 27-year-old Roby will win his 19th cap in Cardiff after getting the nod over Wigan hooker Michael McIlorum and he has set himself the target of appearing in all six matches, which would be his longest appearance run of an injury-hit season.
"I'm feeling good," said Roby, who has played just 14 matches for Saints this year because of ankle injuries.
"Normally at this time of the year you've got a few aches you've been carrying for a couple of months.
"I'm quite fresh so my injuries could turn into a positive in one sense.
"I'm sure a lot of players will be a little bit fatigued and the World Cup will re-ignite them and give them a bit more energy but my body's not had the stress that they've had all year so hopefully I can have that little bit of a spark that some of them have not got."