Iestyn Harris talks up Welsh rugby league ahead of World Cup opener with Italy
Wales coach Iestyn Harris is happy with the 'authentic' squad he has at his disposal to face Italy on Saturday.
Last Updated: 25/10/13 3:24pm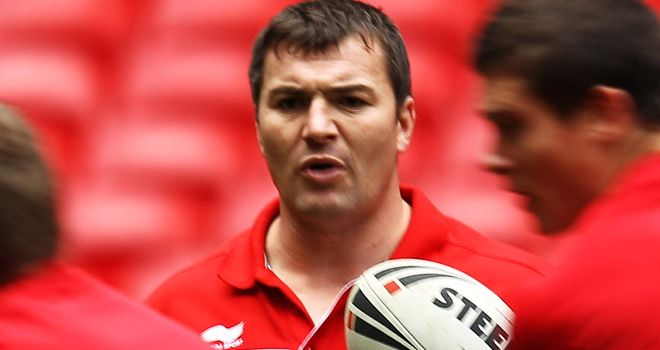 The country enjoyed some short-lived success in the 13-man game with a team Harris played in, but much of that was down to their rugby union converts including Jonathan Davies and Scott Gibbs.
When the conversions to league dried up things got progressively worse for Wales, who hit rock bottom when they failed to qualify for the 2008 tournament.
But Harris has overseen a growth in home-grown talent and he has eight at his disposal against Italy, whose team is composed entirely of Australia-born players and who come into the tournament on the back of a surprise warm-up win over England.
"It's 13 years since Wales were last in a World Cup and it's a different type of group," Harris said ahead of the Millennium Stadium encounter.
"What we have got now is a lot of home-grown talent that has come through the system. There is a real sense of authenticity about the squad.
Depth
"I played in 1995 and 2000 and the unfortunate thing about those periods is that it was very top heavy. Under the surface you were scratching around, there was very little there.
"You can't say that now about Wales rugby league. There are lots and lots of youngsters playing the game and wanting to come into the systems like Wigan and Warrington.
"If you look underneath Wales rugby league nationally, there's a pool of maybe 150 players playing the game at a very good standard. We're very comfortable with where we are as a nation at this moment in time.
"Our 16s, 18s and 20s are extremely strong and our target is that, by the 2017 World Cup, we've got a pool of 60 to 100 competitive players playing at the top level. It's a high target but we're on track for that.
"Being at the Millennium Stadium is a great opportunity. We're expecting a big following of Welsh support and, if we can hold our end up and get the right result, then we'll gain some momentum.
"We know Italy have got a lot of quality. They've got a lot of NRL experience. They obviously had a fantastic result against England so we know it's a formidable task.
"Our challenge is to get to our best as quickly as we possibly can. That's what we've been working on for the last two weeks and, if we hit the ground running, then we can't have any complaints."