Rugby League World Cup: Peter Wallace delighted to make a winning start with Scotland
Peter Wallace admitted his Scotland debut was even better than he had expected after helping the Bravehearts beat Tonga.
Last Updated: 31/10/13 12:03pm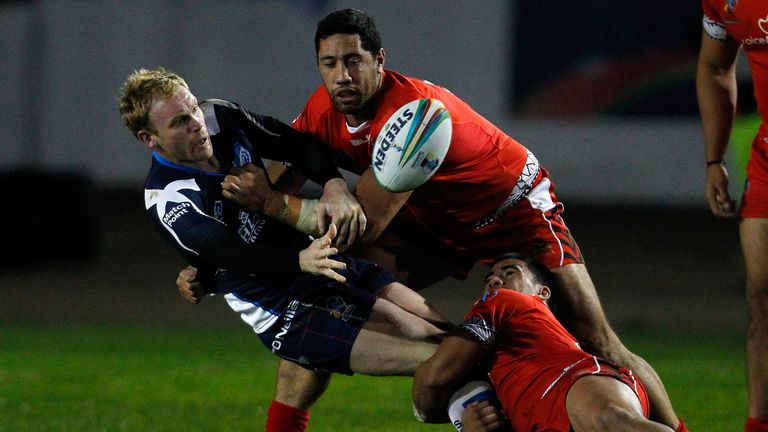 The Australian-born half-back, who qualifies to play for the Bravehearts through his grandmother, played an integral role as Steve McCormack's side held on for a crucial win in the Rugby League World Cup.
Wallace certainly got into the spirit of things with his national team-mates, wearing the team outfit of a kilt and heartily singing Flower of Scotland both before and after the fixture at Derwent Park.
"I couldn't be happier with the night - it was even better than I expected," the 28-year-old said.
"It was a great atmosphere during the game and the atmosphere in the changing room afterwards couldn't have been better.
"It was all a new experience - I've worn a kilt a couple of times before but that was the first time I've sung the anthem properly. I can't wait until next time now."
Wallace's next opportunity to get the kilt out of the wardrobe will come on Saturday, as the Scots take on Italy in a match between the two unbeaten teams in Pool C.
Little sore
He admits there was a bit of rustiness after a lengthy lay-off since the climax of his NRL season with the Brisbane Broncos.
"I think we'll be all right," said Wallace, who next year will be playing for the Penrith Panthers.
"It was my first hit out in about eight weeks so I'll probably be better for the run. I feel a bit sore but that's expected - they were one of the biggest teams I've ever played against. We'll have a light week and be ready for Italy."
Scotland actually led 20-4 at one point in Workington but were forced to cling on to their lead in the closing stages, including surviving a last-gasp video referee decision.
"I thought we were gone there a few times," admitted Wallace. "We had a couple of lucky decisions go our way, which kept us in the game, and Matty Russell came up with the last try to win the game for us.
"In the first half we did everything we spoke about and did everything right. Second half they came out with more fire and got on top of us.
"It was a fantastic defensive effort to have that much possession against us. We did a great job. We were starved of possession but then got a couple of attacking sets and attacked their line and Matty got over."