World Cup: England have recalled former St Helens prop James Graham
England have recalled James Graham for the sold-out World Cup Group A clash against Ireland in Huddersfield on Saturday.
Last Updated: 02/11/13 2:11pm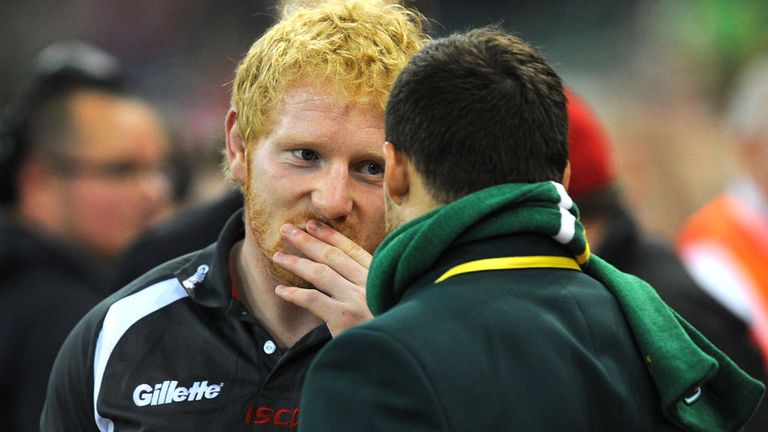 The former St Helens prop, now at Canterbury Bulldogs, was left out of the side for England's 28-20 opening group defeat to favourites Australia in Cardiff on Saturday.
Graham, 28, who is thought to have served an internal suspension for breaching the team's alcohol ban, takes the place of Wigan prop Lee Mossop and will win his 19th England cap.
Wigan loose forward Sean O'Loughlin returns from injury in place of the suspended Sam Burgess and Leeds-bound winger Tom Briscoe takes over from Wigan's Josh Charnley, who has a slight shoulder injury.
Huddersfield second-rower Brett Ferres and South Sydney props Tom and George Burgess retain their places after making their debuts at the Millennium Stadium while Mossop pays the price for being unable to make an impact from the bench.
"We have made a slight adjustment to the squad this week," said McNamara, who struggled to explain the axing of Gareth Hock from his tournament squad as well as Graham's unexplained absence last weekend.
Rotation
"We have one forced with the suspension of Sam Burgess. It gives us a chance to look at a couple of other members of the squad this. It suits us to have a consistent selection from last week with a couple of tweaks.
"We have 24 very good players and the additions to the squad this week, Tom Briscoe, James Graham and Sean O'Loughlin, will give us some impetus and freshness in the team.
"Josh Charnley did fine last week. He has a slight shoulder niggle so the rest will do him no harm. The competition for places amongst the wingers is very fierce and Tom Briscoe has done extremely well in training. He will be given a chance to make an impact.
"Lee Mossop came on at difficult period in the game last week and he tried his best in what was a tough match against Australia. I just wanted to slightly change things around and go with some different personnel.
"It is positive to have Sean O'Loughlin available for selection. He is valued by the group and we understand the qualities he brings to the squad. He is fit and looking forward to it. Having him available gives us a new dimension to the forward pack with great depth across all positions.
Quality side
"Ireland will be very good. They have quality in the side from the Super League and the NRL. They will be better for their performance against Fiji and if we take them lightly we will come unstuck. This is a huge game, a full international, with lots at stake.
"It has the makings of being an absolute belting game. We have a full-house at Huddersfield, which is a great statement for the sport and there will be passion in the stands for both sides.
"We have to be ready to play. We learnt that lesson the hard way two weeks ago against Italy. We certainly won't be making the same mistake again.
"After a physical game against Australia, we have recovered hard and very well. The players are well aware of what is at stake. The next five weeks are the biggest of our careers. We are ready to do the nation proud."
"The Rugby League World Cup has captured the imagination of the sporting public and it is an honour to be part of it. For once, the sport is firmly part of national consciousness and the amount of support we are generating is phenomenal. It is very satisfying to be at the centre of it."
England squad: C Ablett (Leeds), T Briscoe (Hull), G Burgess (South Sydney), T Burgess (South Sydney), R Burrow (Leeds), R Chase (Castleford), L Cudjoe (Huddersfield), L Farrell (Wigan), B Ferres (Huddersfield), J Graham (Canterbury Bulldogs), R Hall (Leeds), C Hill (Warrington), S O'Loughlin (Wigan), J Roby (St Helens), K Sinfield (Leeds, capt), S Tomkins (Wigan), K Watkins (Leeds), B Westwood (Warrington), G Widdop (Melbourne Storm).