Rugby League World Cup: England forward Sam Burgess looks ahead to Fiji clash
Sam Burgess is looking forward to 'the battle of the brothers' when England face Fiji at Hull's KC Stadium on Saturday.
Last Updated: 07/11/13 12:54pm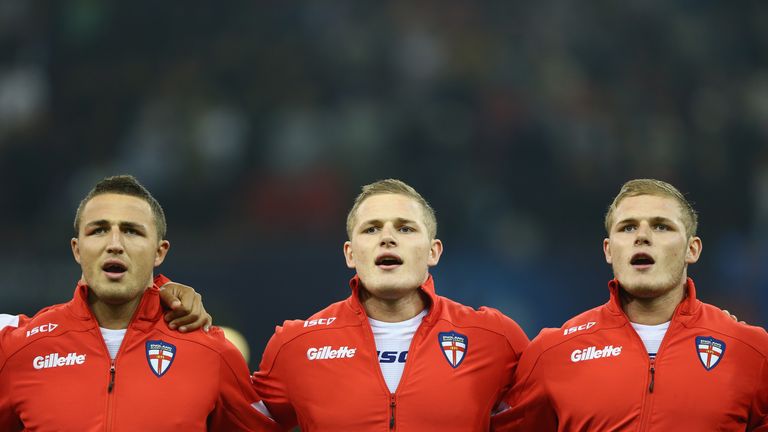 The former Bradford forward is set to return from suspension for the game at Hull's KC Stadium on Saturday and is hoping to once more line up alongside twin brothers George and Tom against the trio of Sims brothers.
Ashton and Tariq Sims, who both play for North Queensland Cowboys, have appeared alongside Korbin, the Newcastle Knights forward, in each of the Fijiians' opening two matches and are expected to lead the Pacific Islanders' bid to cause an upset.
"Hopefully all three of us will be in there, if that's how Steve (McNamara) picks his team, but we won't get too carried away with it, we'll just try and do a job for the team," Burgess senior said.
"Those boys are big and physical and they've been very good so far for Fiji. They've been leading their forward pack enormously. It's going to be a great game."
Sam will win his 12th cap for England, refreshed after his enforced absence for last Saturday's 42-0 win over Ireland following the one-match ban handed out for a high tackle during the opening defeat by Australia.
"Obviously I'd rather be out there," he said. "You don't want miss any Test matches if you can help it.
"I'm pleased for the guys that got their chance. They did a good job and got the win.
"Hopefully I get back in there and I can do a good job against Fiji."
George made a big impression on his England debut against the Kangaroos, following up his stellar season with South Sydney in which he was named NRL rookie of the year, but played little part in the win over Ireland after picking up a knee injury in his first carry of the match.
Excited
Sam is excited at the prospect of seeing more of George at the highest level and is also expecting Tom to continue his international apprenticeship after two substitute appearances so far.
"George has had a cracking year," Sam said. "He trained very hard, worked hard at little things in his game and it's certainly paying off for him.
"He didn't get a lot of time against Ireland because he got that little knock but it was more precautionary than anything and he's looking forward to getting back in there. I am sure we'll see another strong performance from him.
"Tom is a very good player. He's good at doing his work as a typical front rower. He is normally not expected to do a great deal of stuff, other than to run the ball hard and make the tackles.
"George scores a few tries here and there but Tom is going along well. He's doing a good job He will keep building on his performances and keep growing as a player."