Rangi Chase adapting his mercurial game to suit England at the World Cup
Rangi Chase is happy to adapt his game to suit England's needs if it keeps him in the side at the World Cup.
Last Updated: 08/11/13 11:52am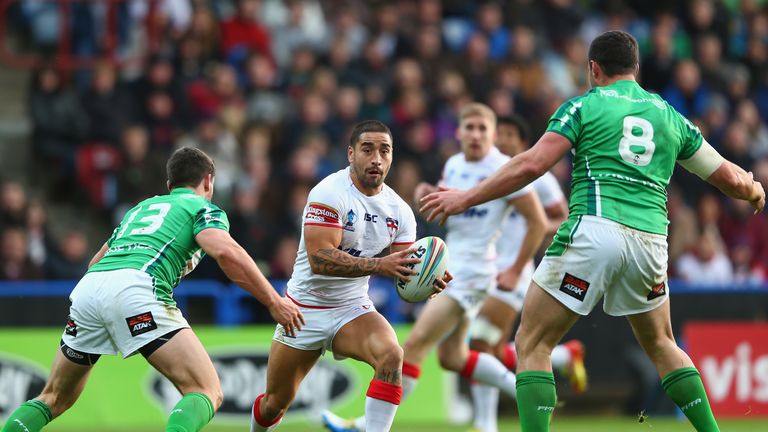 The talented stand-off has come in for criticism during the tournament so far with pundits clamouring for a change at half-back, where his partnership with Kevin Sinfield has been inconsistent.
But coach Steve McNamara is likely to persist with his pairing ahead of Rob Burrow and Gareth Widdop for the pivotal clash with Fiji on Saturday, the latter not having even been named in his 19-man squad.
There are suggestions Chase has reined in his natural game to fit in with McNamara's plan and while he doesn't necessarily agree with that, he knows it is the team ethic which has to take precedent.
"The game plan suits the team, not me. It's not about me or anyone as individuals," Chase told the Yorkshire Post.
"You've got to do what's best for the side and I like it. At Cas I was touching the ball two times every set as we had to play like that because of what we had.
Off-the-ball stuff
"But here, there's that much talent I don't need to. I do stuff off the ball instead - push in support, kick-chase for the team - instead of doing all the pretty stuff.
"I'll do some of the stuff that fans and even media don't see. I'm disciplined. We've got to get a good mix of structure and playing what I see; I play on instinct but I've got to get a mix of that.
"You don't get praise for the little things but that's what I've been working hard on, doing all the little things rather than the pretty things I know I'm capable of.
"It's good Steve has kept me there and it makes me think I've done something good.
"I've just got to keep improving. The more ball we get and the more sets we complete, the easier it is for us playmakers. We've just got to make sure we do it consistently, which I think we can."