Rugby League World Cup: Australia have some selection issues for quarter-finals
Australia coach Tim Sheens has a "real headache" when it comes to selecting a side to play in the quarter-finals.
Last Updated: 11/11/13 7:52am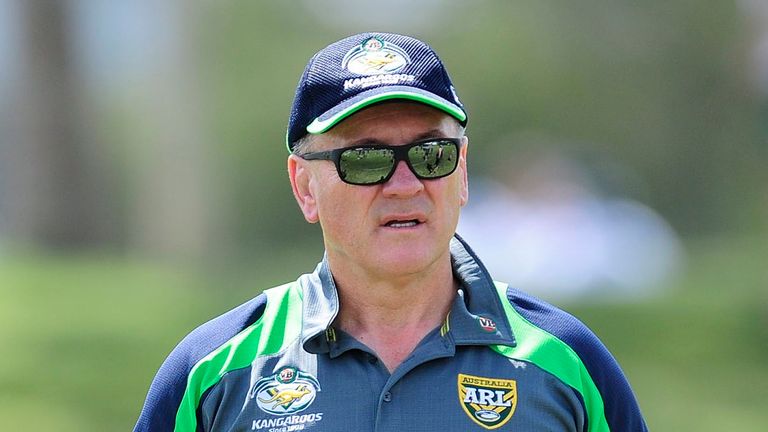 The Kangaroos maintained their perfect record in this year's tournament with a 50-0 thrashing of Ireland in Limerick, meaning they finish on top of Group A.
They will next face the United States in the knockout stages and Sheens knows he faces some tough decisions over the make-up of his 17-man squad, having shuffled his options around so far.
"We had some timing issues and I blame myself for that because I have changed the halves, had two full-backs and given the halves a couple of runs. They're as cranky as hell about that and I know they're all competitive," he said.
"But we have led our pool and I think we can play better, we will improve that. We have got here and played well as a team."
On the side which will face the US, he added: "It's hard to say, I didn't get any injuries so I have to get close to picking our best 17 on the next game. It's a difficult one to say and it's real headache for me because we have so many guys playing well. We have a real couple of contentious positions."
Character
Ireland coach Mark Aston praised his side for showing character as they ended their campaign with a third straight loss.
"It was always going to be tough. We were playing high-quality opposition," he said.
"But I'm proud of what we served up. They had double the sets we had and the penalty count played a big part. It's hard enough playing the best in the world without not getting the bounce of the ball and the rub of the green.
"But we stuck in, had a dig and showed character."
Aston knows rugby league in Ireland faces a tough challenge in tempting youngsters to the game, something that could become even more important as a number of his senior players could now be set to retire.
"We'd like a level playing field and we only got together three Saturdays ago," he admitted.
"There are 48 development officers for rugby union in this area alone. How can we get them to play rugby league? But we will be smart and do what we can.
"Tonight we needed to make sure we were loud and proud and we were."