RL World Cup: Billy Slater will not face charges after a nightclub scuffle
Australia full-back Billy Slater has been released without charge by the police after a nightclub scuffle.
Last Updated: 12/11/13 1:35pm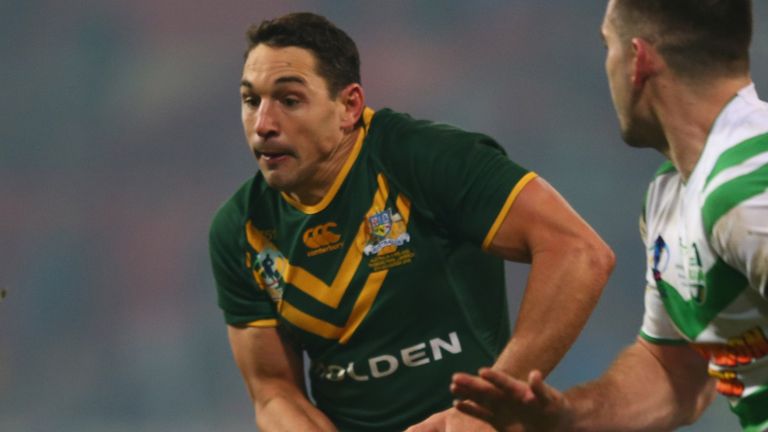 The 30-year-old Melbourne Storm man was detained in Manchester but the Australian management say police are now satisfied he was the victim of the incident.
Slater is one of the faces of the on-going Rugby League World Cup and the dual winner of the prestigious Golden Boot had been out celebrating his team's 50-0 victory over Ireland on Saturday, their third win of the tournament.
However, he became involved in a scuffle and Greater Manchester Police had to be called.
CCTV footage
But a Monday morning statement said: "Australian Rugby League team management can confirm player Billy Slater was detained by police this morning and has been released without charge.
"After reviewing CCTV footage of a scuffle outside a Manchester nightclub, police have determined that Slater was the victim who then acted in self-defence, and have informed him of his right to press charges.
"Billy was returning to the venue to collect a jacket that he left behind when he was attacked. Both men were detained for several hours while police reviewed footage of the incident.
"The Australian team players were free of official duties after returning from Ireland."
The Australians are currently preparing for their quarter-final against USA in Wrexham on Saturday.
And a spokesman for the team said it was "unlikely" that Slater will press charges.
The police released a statement on Monday morning which read: "At around 2.40am today, a verbal altercation took place between two men outside Mojos on Bridge Street.
"One of the men threw a punch at the other, so the victim retaliated and punched him back in self-defence.
"The police were called and both men, a 30-year-old old man from Australia and a 40-year-old man from Manchester, were arrested on suspicion of affray.
"Officers have now viewed CCTV of the incident and the 30-year-old man has been released with no further charge. The 40-year-old remains in police custody for questioning."