Rugby League World Cup: USA's Matt Petersen to hang up boots once again
After two comebacks Australia-born USA international Matt Petersen is finally ready to retire for good.
Last Updated: 12/11/13 12:30pm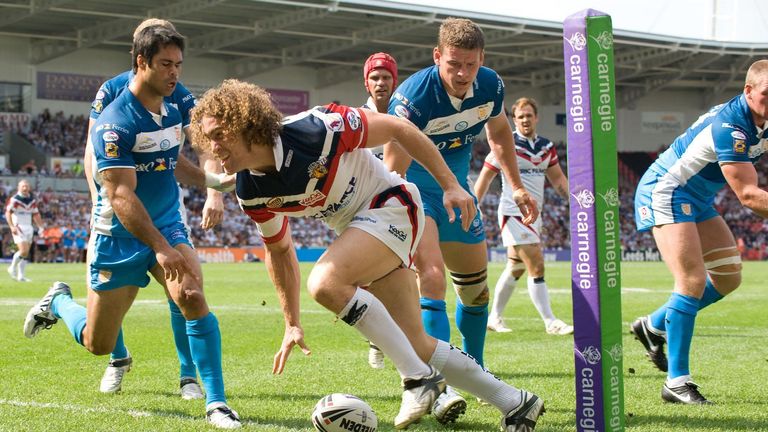 Petersen, the veteran former Wakefield winger, is set to line up against his native Australia for the United States in an unlikely World Cup quarter-final at Wrexham on Saturday.
The 33-year-old has been one of the star performers for the Tomahawks - for whom he qualifies through a grandfather - during their surprise run to the last eight.
This may have come as a surprise to Wakefield supporters, who might remember the shaggy-haired three-quarter being forced to hang up his boots due to a bad knee four years ago.
But Petersen, who also thought he had permanently retreated to a quieter life on the Gold Coast, where he now owns a tyre business, was tempted back into action by the prospect of a World Cup swansong.
"I was over here and then retired in 2009, but I came out of retirement to play in the qualifiers in 2011," said Petersen, who scored tries in his Australian-tinged side's shock wins over Cook Islands and Wales.
"Now I have come out of retirement again to play here and I played a season in the Gold Coast local comp to get ready.
Once-in-a-lifetime opportunity
"I'm just hoping the body holds together for one more game, and then I'll be happily back off into retirement.
"Originally I wanted to come here as assistant coach but I had a really good chat with David Niu, who runs the league in America, at the start of the year.
"He said it would be a once-in-a-lifetime opportunity to play and if I didn't try I'd get here and regret it.
"I talked about it with my wife and she said the same thing. I thought, 'What's the worst that can happen?'
"Now I am here all these games have been the highlight of my career - and that will obviously be topped off next weekend."
Petersen played for North Queensland, Parramatta and Gold Coast before leaving for Wakefield in 2008.
He grew up dreaming of wearing the Green and Gold of Australia but, having pledged allegiance to the US a decade ago, sees this weekend as the next best thing.
Dream
He said: "Of course you always want to play Origin and for Australia but then you realise where you are and what level you are at.
"When the opportunity came up (with USA) I thought it was a great opportunity and a chance to experience international football.
"I started playing 10 nearly years ago. We played Australia in Philadelphia in 2004 and now we play Australia again."
The US, rank outsiders at the start of the tournament, have won many admirers with their performances, which have seen them win Group D and pinch Wales' hoped-for home quarter-final against Australia.
Tiredness perhaps caught up with them as they were beaten 22-8 by Scotland in their last match of the group stage last Thursday.
But the odds had already been defied before that third game in nine days and with a 10-day gap before facing Australia, the Americans hope to be reinvigorated.
Petersen said: "We have had a big turnaround now so that will have given everyone a chance to get over their little worries.
"Saturday is going to be the highlight of the guys' careers and the highlight of mine. I'm really looking forward to it."