Rugby League World Cup: Scotland target upset against New Zealand
Full-back Matthew Russell insists Scotland will not be overawed when they take on New Zealand at Headingley on Friday.
Last Updated: 13/11/13 8:32am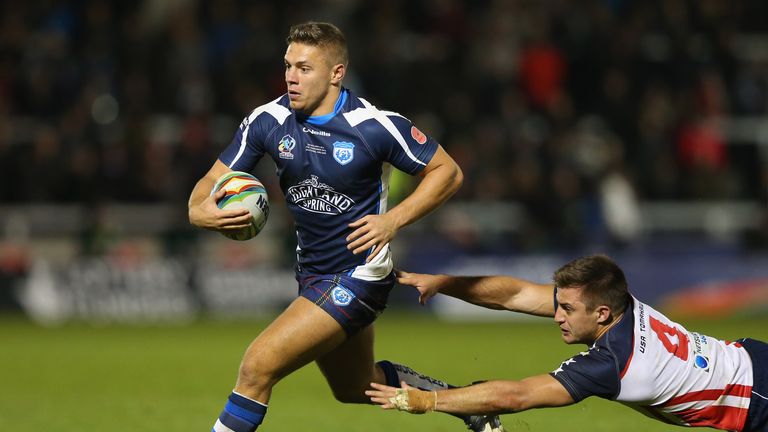 The 20-year-old, who was born on the outskirts of Glasgow before moving to Wigan, has been one of the heroes of the Bravehearts' remarkable run to the quarter-finals of the World Cup.
Wins over Tonga and the United States, plus a draw against Italy, enabled Steve McCormack's men to top Group C and earn an unlikely tilt at the holders.
And Russell, who has scored tries in every match so far, insists Scotland can continue their giant-killing acts.
"We always knew we could upset teams, right from the start," he said. "We looked at who we were playing and Tonga and Italy especially we thought we could turn over.
"To get to the quarter-finals is great. It will be really good to go up against New Zealand to see how we handle ourselves.
"We know what we can do. We've worked on what we're going to do to maybe win the game.
"Anything can happen. It's 17 men on 17 so we can definitely come up with a win."
Scotland have suffered a blow with the loss of one of their full-time players, second rower Dale Ferguson, who lost his appeal against a two-match suspension imposed for a dangerous tackle, but McCormack was in upbeat mood as he went into camp in Leeds with a virtually full squad.
Self-employed
A full-time teacher, McCormack managed to extend his leave from Warrington College and the squad's Cumbria-based trio of Brett and Callum Phillips and Brett Carter received permission from their employers at Sellafield to remain on World Cup duty.
"Josh Barlow is the only one still to join up with us," McCormack said. "He's self-employed and is still fitting fireplaces but he's on his way.
"All the employers have been good and it's not a bad excuse anyway to give to them. You don't get many chances to play in a World Cup quarter-final. All the employers have been watching the games throughout the tournament."
Scotland's trio of NRL-based players, Peter Wallace, Luke Douglas and Kane Linnett, also managed to prolong their stay in England.
"Their flights were put back and, if we progress, they'll get moved again," McCormack said.
The Bravehearts will be without veteran hooker Ben Fisher, who damaged a calf muscle in the warm-up to the USA game, but Ian Henderson is back from injury to take his place and centre Linnett has recovered from a rib injury that forced him to sit out the final pool match.
"They both trained today with no ill-effects whatsoever so it's great to get them back," McCormack added.
Hull KR forward Rhys Lovegrove would have been an obvious replacement for Ferguson but he failed to link up with the squad due to other commitments.