Rugby League World Cup: Tim Sheens says Billy Slater will face United States
Australia coach Tim Sheens has no qualms about picking Billy Slater for their World Cup quarter-final against the USA.
Last Updated: 16/11/13 5:17am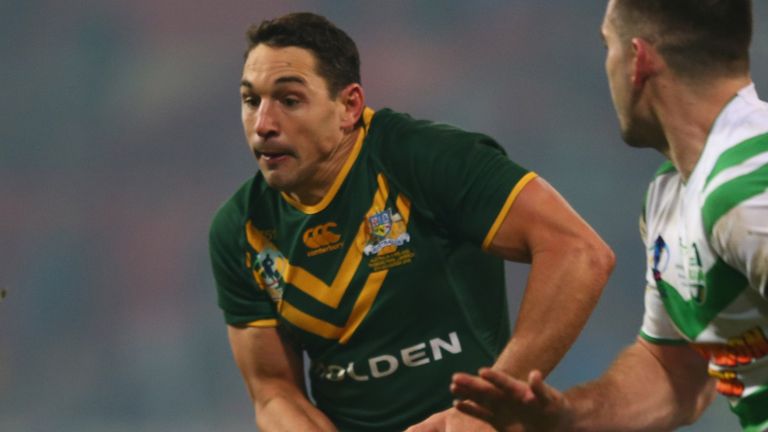 Slater was detained, and later released without charge, by Greater Manchester Police after an incident in a nightclub in the early hours of Monday.
Although he was later declared the victim of the incident, there has been criticism of the 30-year-old for taking the focus away from the Kangaroos as they bid to win the title for the 10th time.
But Sheens is happy to back the talented full-back to the hilt as he plots a way past the Tomahawks at Wrexham after Terry Matterson's side proved to be the surprise of the qualifying groups.
"The police have cleared Billy and so there's no reason for me to punish him," said Sheens.
"He's already admitted he would not have liked the incident to happen, but that incident could have happened at nine o'clock at night also.
Timing
"It just looks worse for him because of the timing and he knows it, he's disappointed that it's brought attention onto the side for the wrong reasons because of his stature in the game. But it's a lesson learned, even at his age, he can still learn a lesson."
Although Australia are around a 50-point favourite for the match, Sheens will not be taking the USA lightly, especially given they know plenty about some their NRL-based players.
"I think everyone has been surprised, but we know quite a few of their players," Sheens said.
"Obviously they've bonded very quickly - their coach has done a great job there to get them together on a shoestring budget and get them to perform.
"We've been impressed, particularly with their last two games, they lost to Scotland but it was a very tough game and Scotland got on top in the last 15 minutes. I think the quality is rising to the top."