Rugby League World Cup: Steve McNamara not impressed with England's win over France
Steve McNamara was far from impressed with England's performance despite their 34-6 win over France at the DW Stadium.
Last Updated: 17/11/13 9:15am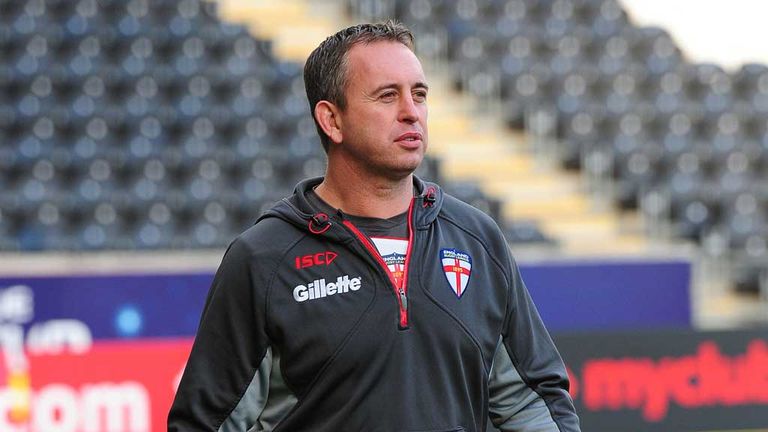 The host nation trailed 6-0 in the early stages at the DW Stadium before two tries each from Ryan Hall and Josh Charnley and further scores from Sean O'Loughlin and Brett Ferres saw them to a comfortable win.
The result means England safely progressed to the last four, where they will face defending champions New Zealand at Wembley. But McNamara was in no mood to praise his side.
"It was very scratchy, it was disappointing tonight," he said.
"We've done enough to win the game and the scoreboard looks reasonable but the performance was way, way down from what we expect.
"We respected France going into game but the way we approached the game and the amount of errors we committed, particularly in the second half, was extraordinary.
"We'll be alright for next week (against New Zealand), we'll be back to our best I'm sure, but there's a lot of work to do between now and then."
Improvement needed
England's man of the match Sam Tomkins, playing in possibly his last ever match in Wigan, echoed his coach's thoughts that much more will be needed against the Kiwis.
"We played well in patches but then we knew it was won and we went a bit sloppy," Tomkins, who ended the match in the sin bin, added on BBC Two.
"There are a lot of areas of improvement if we're going to beat the Kiwis next week. That was in the back of everybody's minds but we were all focused on what we had to do today.
"We've got to play better next week and I'm confident we will."
France coach Richard Agar praised his side's commitment but admitted they were outclassed when it mattered most.
He said: "They pulled us apart a few times. Pride and courage can only take you so far and unfortunately the other side had a lot more skill than us.
"We lost two guys (the injured Kane Bentley and Vincent Duport) in the first 10 minutes, there was always going to be a question over how we travelled in the second half and we ran out of steam."