Rugby League World Cup: Josh Charnley relishing Saturday's semi-final battle
England's Josh Charnley cannot wait to sink his teeth into New Zealand in Saturday's mouth-watering semi-final clash.
By James Pearson
Last Updated: 23/11/13 12:35pm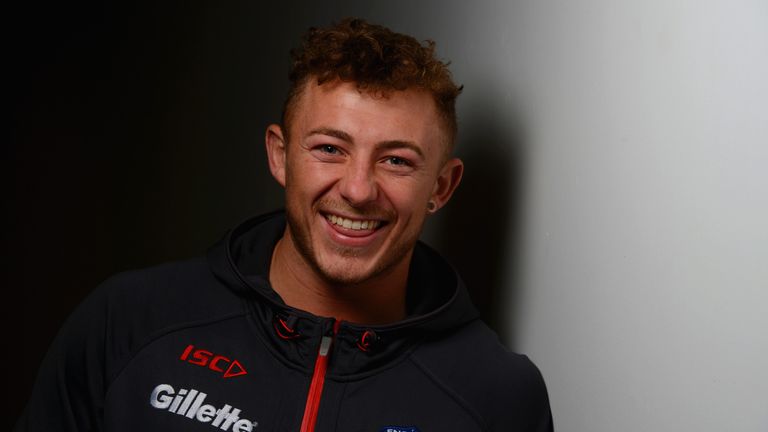 Charnley returned to the starting XIII last weekend for England's quarter-final against France in Wigan and the Warriors flyer bagged two tries in the victory.
The 22-year-old scored in England's opening defeat to Australia at Cardiff's Millennium Stadium, before sitting out their two other group games against Ireland and Fiji after taking a knock to his shoulder.
Charnley admitted it was a shock getting back up to speed following a two-week absence, although he was relatively pleased with his performance after twice being set up by centre Kallum Watkins.
"It was a good game. I've been out for two weeks, just trying to get back into the game," he told Sky Sports.
"It's quite hard at first, but I was pretty happy with my performance. I could have done a little more to help the team out, but I was alright with it.
"I've had a bad shoulder since we played Leeds in the semi-final. I took a bang against Australia and it just set me back a couple of weeks. When I tackled Greg Inglis I shocked it a little bit. A couple of days after the game it just seized up a little bit.
"Every lad who is in the squad now can compete for a spot. It's good competition. For the past two weeks I've tried getting back into the squad. The three wingers in the squad are very good. It's a hard spot to try and grab."
Threat
The Kiwis will pose an entirely different threat to the teams England have faced in recent weeks, but Charnley believes the co-hosts can upset the odds at Wembley.
"It's going to be an exciting game. It's going to be a tough week because we were disappointed in our performance at the weekend, but there are a lot of positives we can take out of it," he continued. "Hopefully we can put up a good stint against New Zealand.
"They (France) were trying to slow us down a little bit. It's not really what we want. We want a fast-flowing game so we can keep people on the ground. It was a tough game, but we came out on the winning side."
Wembley is something of a happy hunting ground for Charnley as he has played twice and won twice in the capital courtesy of two Challenge Cup victories for Wigan and he is hoping for more of the same this time around.
"I've had two wins there in Challenge Cups. It's a good luck place for me so hopefully we can get the win at the weekend and carry it on.
England rugby league sponsors Gillette are continuing their commitment to the sport with significant investment to improve the quality of coaching at the grassroots of Rugby League in the United Kingdom.
Charnley cannot underestimate the importance of quality coaching, adding: "Putting money into it is good because it's getting more people involved with the sport.
"A lot of young kids are probably taking a liking to rugby because of the contact and how the team works. Investing in something like they have done and trying to get kids noticing rugby is massive.
"I've had the chance to be under Michael McGuire and now with Shaun Wane, two tough coaches. A lot of kids need someone to be straight with them so they don't step out of line and keep a strong head on."
Gillette's partnership with the RFL and its commitment to invest in RFL coaches is part of The Great Start Programme which aims to celebrate and encourage the coaches who will inspire the next generation. For more information visit www.facebook.co.uk/GilletteUK