Rugby League World Cup: Jason Nightingale ready to fill in for New Zealand
Jason Nightingale is ready to step into the breach for New Zealand's World Cup semi-final should Manu Vatuvei miss out.
Last Updated: 21/11/13 4:17pm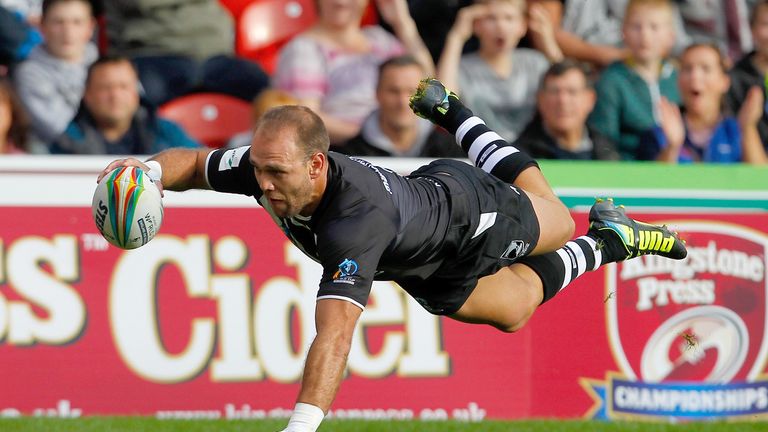 The 27-year-old St George Illawarra winger, who entered the tournament with 17 caps under his belt, has been restricted to just one appearance so far due to the blistering form of 20-year-old flier Roger Tuivasa-Sheck, who has scored six tries in his four matches.
Nightingale's solitary outing came in the 48-0 win over France in Avignon as the other winger, Vatuvei, rested a knee injury - and he is on standby for Wembley in case the New Zealand Warrior fails to overcome a groin strain.
"I'm patiently waiting to see how Manu pulls up," he said after the Kiwis' training run at St Mary's College in Twickenham. "Hopefully we'll find out soon."
Playing the waiting game is nothing new for Nightingale, who could not get into New Zealand's 2008 World Cup-winning team due to the presence of Vatuvei and Sam Perrett.
"My Kiwi career started out a bit this way," he said." I had a couple of appearances in the '08 World Cup squad, didn't play a lot in '09, but since then I've been pretty consistently in the team.
"So there has been a bit of an adjustment but that's just the quality of New Zealand rugby league.
Talent
"Everyone has seen how much of a natural talent Roger is and he's only going to improve. There's talk of him going to full-back for his club but at the moment his position for the Kiwis is on the wing.
"It's obviously unfortunate for myself but there might still be some opportunities for me. It will be unfortunate if it does come through an injury but we've all been training hard and we're trying to base ourselves on being a squad of 24 people rather than the 17 blokes who are on the field."
The Kiwis will go into Saturday's game as clear favourites after running in 186 points in their four matches so far but Nightingale, who was in the team that beat Wales in the 2011 Four Nations Series at Wembley, accepts that England may be more "battle-hardened" after coming through tough group games against Australia and Fiji, the other semi-finalists.
"We've had a couple of challenges but nothing like we're going to have on the weekend," Nightingale added. "We need to be up for that. That will be nothing other than a tough match.
"I was very impressed by England in the second half of that game against Fiji. If they turn up the same on Saturday, the game could go either way.
"They are definitely more battle-hardened than we are but, in saying that, Scotland were a solid team and they deserved their spot in the quarter-finals.
"We played pretty well to beat Scotland on the weekend. We need to improve on what we've done if we are to beat England. We need to step up another level if we want to get to the final."