Rugby League World Cup: Sam Burgess out to frustrate Sonny Bill Williams
England forward Sam Burgess is determined to deny Sonny Bill Williams the chance of completing a World Cup double.
Last Updated: 21/11/13 12:09pm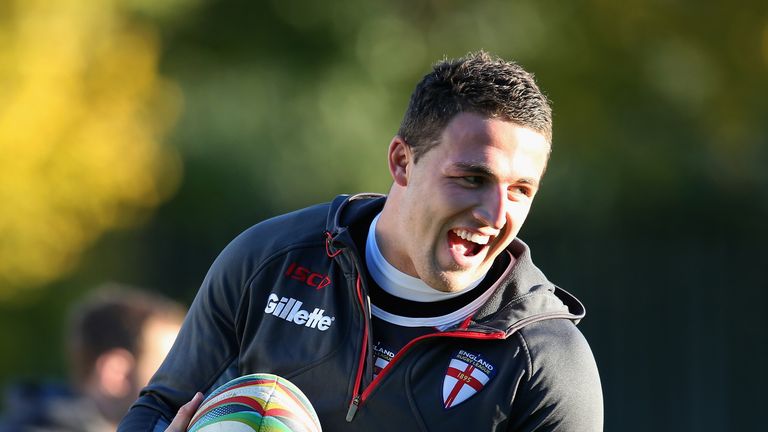 The clash between Williams and Burgess, two of the biggest names in the NRL, promises to be the highlight of Saturday's first semi-final between England and New Zealand at Wembley.
Williams has already won the rugby union World Cup with the All Blacks and has his sights on completing the double at Old Trafford.
However Burgess, who got to know Williams following the Aucklander's move to Sydney Roosters in 2013, has other ideas.
"Sonny's a great player," Burgess said. "He's great for the game, great for the World Cup and it will be tough to control him but we'll look forward to that challenge."
Williams' stature in the game is so great that, when he made himself available for the World Cup at the last minute, coach Stephen Kearney dropped Tohu Harris from his original squad to make way for the 28-year-old.
And former Bradford forward Burgess believes his controversial inclusion has been justified.
Humble
"He's had a great tournament," he said.
"He's a very nice, humble guy and an impressive human being. He's very respectful and a great athlete. I've certainly got a lot of respect for Sonny.
"Once you get on the field, though, it's a competitive game and I guess we'll both get stuck in. You always enjoy playing against the best players. I'm not just looking forward playing against Sonny, I'm looking forward to going up against a great Kiwi side."
While most eyes will be on Williams, Burgess is warning England to also watch out for the threat of dynamic hooker Issac Luke, his South Sydney team-mate who has enjoyed a tremendous tournament so far.
"He's in great form," Burgess said. "He's one of our stand-out players all year at South Sydney and probably one of the in-form players in the World Cup.
"He'll be a main focus for us. He really gets them going - he is very fast and dynamic out of dummy half so we're going to have to be good around there.
"If I knew how to stop him, it would be worth a bit of money. He's a world class player and has really matured over the last two years into a week in, week out quality rugby league player. He's very influential for them so we're going to have to do a good job on him.
"But I'm sure we'll be shaking hands after the game. He's one of my good mates."