Rugby League World Cup: Terry Matterson hoping for progress in the United States
Terry Matterson is hoping a progressive World Cup can give rugby league a boost in the United States.
Last Updated: 23/10/13 7:26am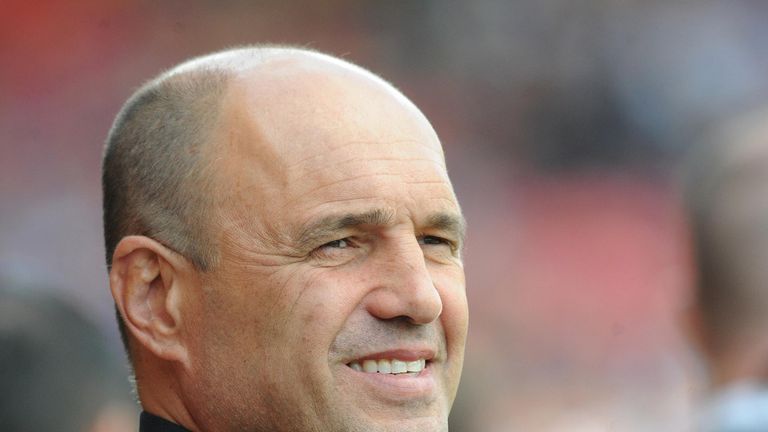 Efforts to establish the game in America go back two decades and more and last Friday's surprise 22-18 success over France have raised expectations of a promising World Cup, which starts on Saturday.
The Americans love contact sport as illustrated by games such as American Football and Ice Hockey, although rugby remains well down the pecking order behind their favourite pastime Baseball.
Matterson insists the Tomahawks' shock win in Toulouse has provided a real boost and he now hopes further success in the coming weeks could provide a platform for the game to grow in the States.
"It has been a real shot in the arm, now the challenge is to do it in the World Cup," said the former London Broncos captain and ex-Castleford Tigers head coach.
"I don't think it hurts to think about what might happen because it's such a big country with resources that no one else in the world has got.
Dream
"You can always dream and you never ever know. They've been trying for a long time to get rugby league going there.
"I don't know a lot of what's happened but there's some in-fighting with two different leagues over there so they need to get that sorted first. Certainly, if we can get some results here, it will help."
Matterson is the USA's third coach in as many months after he agreed to take the place of Brian Smith when he pulled out in order to attend his son's wedding, having stepped into the breach only a month earlier when another former Bradford boss, Matthew Elliott, formally withdrew due to his commitments with New Zealand Warriors.
"I quickly sorted a few things out and a week later I'm on the plane," continued Matterson, who has been working as an assistant coach at North Queensland Cowboys since ending his six-season stay at Castleford two years ago.
"I spoke to Matty, who said it was one of the most enjoyable things he's done.
Opportunity
"It was also a good opportunity for me to head coach again. I've been an assistant for a couple of years and I thought it was a good opportunity of personal development for me.
"It's worked out great. I had to forgo some time with the family but I'll make it up when I get back. They were jealous actually. We've a lot of friends from my time back here."
USA are in a group alongside the Cook Islands, Wales and Scotland and Matterson is staying grounded following their triumph over France.
"We haven't set any goals as such. We just want to get the best out of everyone.
"If everyone can play to their ability and some of the guys who haven't had the exposure to this sort of rugby can get some improvement in their game, we're doing a good job. We'll see what happens results-wise."