James proud of Wales display
Jordan James believes that Wales have reason for optimism ahead of the 2013 World Cup after impressing in the Four Nations.
Last Updated: 14/11/11 3:58pm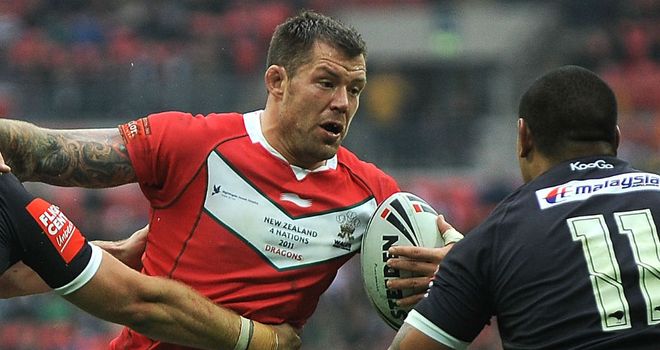 Jordan James believes that Wales have reason for optimism ahead of the 2013 World Cup following their encouraging showing in the Gillette Four Nations.
The former Crusaders forward is now looking to the future after Iestyn Harris' side emerged with considerable credit from their clashes with the big guns of international rugby league.
Wales, who were surprise qualifiers ahead of France, competed for long periods against England and New Zealand in their first two matches of the tournament.
And in their final group game against Australia, they even threatened to cause a huge shock by taking an 8-0 before the Kangaroos' quality finally told and they cruised to a 56-14 victory.
And although he was disappointed with the lopsided nature of the final scoreline, Jones was eager to take the positives away from Wales' campaign.
"I didn't enjoy the last 20 minutes. It was a bit of a shame. I think we let it get away from ourselves a little bit probably 10 minutes before half-time," he said.
"It was nice to play the best in the world and I think we held our own for 30 minutes. It was a shame we couldn't quite do it in the second half.
Chances
"We had loads of chances. When we completed, we looked a world-beating side. We just need to take that into next year and the year after for the World Cup.
"We've played well in spells, we just need to put that into 80-minute performances really.
"We've got some young kids and they are only going to learn. I'm still learning. It's onwards and upwards for us, definitely."
Sunday's game in Wrexham marked the farewell of long-serving duo Lee Briers and Ian Watson but James, who will play for Salford next season, has no intention of following suit.
"They'll have to drag me off kicking and screaming before I retire, that's for sure," added Jones, who scored a try in the second half against Australia.
"I love playing for Wales. It's in my blood and I certainly won't retire until I'm told to retire."
James is now set to take over as his country's most experienced player and will be a leading candidate to take over the captaincy from Briers.