England's Adrian Morley has no plans to retire from international rugby league
Adrian Morley will not quit international rugby league even though Sunday's final against France could be his last.
Last Updated: 06/11/12 4:12pm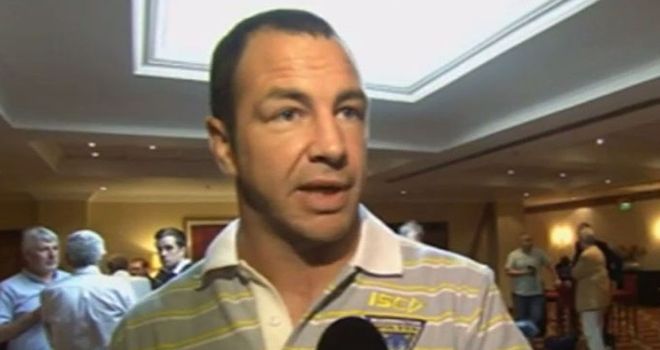 The 35-year-old Warrington Wolves forward has enjoyed a glittering career in the game and still loves representing his country.
The former Sydney Roosters and Leeds Rhinos man was born in Salford and is hoping to get the nod from coach Steve McNamara for against France at the City of Salford Stadium.
Morley has seen Leeds' Jamie Peacock call time on his international career, but the veteran has not given up hope of playing in next year's World Cup on home soil, although he knows McNamara will have the final say.
"This game would probably be a good way to finish, playing in my home town," said Morley.
"I'm 35 now and when Jamie Peacock retired there were a few questions headed my way, especially when I got overlooked for the Exiles series.
"But there's a voice at the back of my head saying 'once you're retired, that's it'. I made it a goal to try and get back into the England fold and I'm delighted to be back in.
"If it gets to the point next year - and it might do - when Steve Mac says 'I'm not selecting you', I'm big enough and man enough to take it on the chin.
"But I've said publicly that, if you are playing well enough and your country needs you, it's your duty to put your hand up.
"I've made the decision now that I'm never going to retire. I'll just have to wait and see what happens next year."
Morley has one more season on his Wolves contract and he is focused on regaining his best form before thinking about winning a place in McNamara's England World Cup squad.
"I'm contracted next year with Warrington," he continued. "It's not been a great year for me personally in terms of my form, although injuries played a part in that.
"I'm hoping to improve my club form next year and then we'll have to wait and see. Age is creeping up on me and it will be tough to make it but it's not totally out of the question.
"There are some fantastic players in the front row who are not in this squad. And Chris Hill might not look it but he's only a young man and he's got a big future ahead of him so there are all those factors to take into account."