Carney's six degrees
Brian Carney goes from Mount Athos to Mount Hagen, Papua New Guinea in his new six degrees of separation column
Last Updated: 05/02/13 11:52am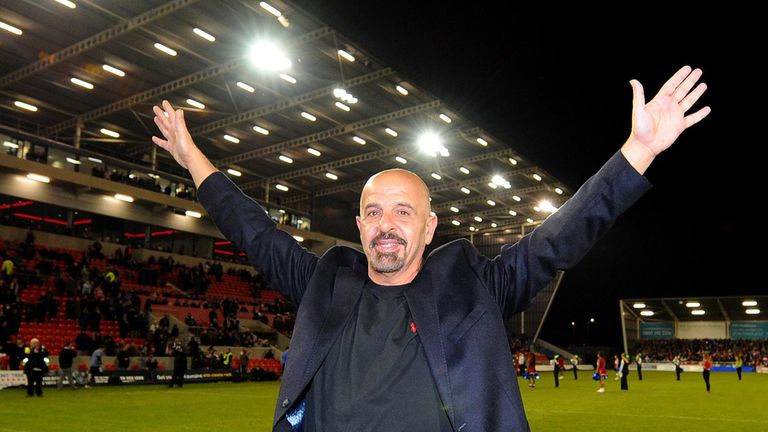 Mount Athos is a mountainous peninsula in Greece, home to plenty of monasteries and not a lot of women (they are banned!!) Mount Athos is also the name of the racehorse that in 2011 brought nearly £70,000 into the coffers of Marwan Koukash the horse racing fan Salford City supporters hope will have their side in the winners enclosure soon. To do that plenty of recruitment is needed. Phil Veivers has had his hands tied since late last year when Salford went to the brink and while rival clubs went shopping he had to compile wish lists that were to go unfulfilled.
Compounding that is the players Salford have lost, Luke Patten, Sean Gleeson, Matty Smith and Daniel Holdsworth amongst many others. They also lost to the Leeds Rhinos Joel Moon.
Joel is a talented centre who might be the man to replace, via Carl Ablett, the great Keith Senior. When he left the Australian schoolboy ranks he had the Melbourne Storm chasing hard for the signature of a halfback that they thought might be one to build a future around. It took a personal phone call from the great Wayne Bennett to persuade Moon to sign for the Broncos instead.
He started for the Brisbane club for the first time in 2006 and made 31 appearances in three years, never fully settling into such a vital role. Knowing his origins as a ball player should make some of the sleight of hand he shows no surprise. Ryan Hall may profit from playing outside this talented Queenslander. If those two combine it will surely bring a smile to the boss, Brian McDermott.
Brian Mac has now won two titles in two years at Leeds and many make them favourites for another this year. He now coaches one of the best clubs on and off the field but it wasn't always so. He cut his teeth as a head coach further south, geographically and in league table positions, at London Harlequins now Broncos. A Super League season for the contenders must seem like a runway, there to facilitate your take off to greater heights. For the Broncos it might seem like a hill. Months of slog to move slowly upwards and any slip being punished with a slide back down to the bottom. Does it have to be that way?
What do they need to do differently this year that they haven't done in the past? Those are questions that Tony Rea will have to answer. Owner David Hughes has gone back in time and brought back in a man who has filled most roles at the Broncos and feels that there is still potential for prolonged success down south. I would love that to be true but I just don't believe it. Hughes made his money through great success in the field of gas trading. He's leaking it at an alarming rate on the field at the Stoop.
The Stoop has of course seen some good days under the boots of the Broncos.The team that played there in 1999 went to the Challenge Cup Final and contained names like Edwards and Offiah. Another member of that squad was Tulsen Tollet.
Tulsen was born in the U.K moved to Australia with his parents, played in the top flight over there before moving to the Super League and gaining international honours. Sound familiar? Well almost? It is a career path currently being trodden by the very able Gareth Widdop at the Melbourne Storm. The Halifax native is one of the better halves in the NRL and will continue to develop with Cooper Cronk as a mentor. Gareth needs to have a big season to give the premiers a chance of retaining the trophy.
England coach Steve McNamara needs Gareth to have a big season to have a chance of lifting the World Cup in November. Widdop can bring so much to the squad but he won't have Slater, Cronk and Smith for support. Cue Tomkins, Chase and Roby?
Ah the World Cup, we'll hear plenty of that this year. Countries steeped in rugby league history battling some newcomers to the sport and of course many peoples favourite second team, Papua New Guinea. The only country in the world where the 13 a side game is the national sport. One of their best is Paul Aiton.
Wakefield signed Paul to be one of their leaders during and away from the 80 minute battle each week. An unfortunate injury suffered while on holidays meant he missed playing in his sides fantastic late run to the play-offs. Getting him back is a huge boost for Richard Agar who knows his team won't be taken lightly by anyone and that only makes the job harder.
Crowds are up at Wakefield and they will hope that the good times of 2012 are only the beginning. Justin Poore comes in to bring more grunt to the pack and Aiton will hope to benefit from his efforts. The man from Mount Hagan, Papua New Guinea is back. Are the good times back to stay for Wakey?