NRL: Burgess brothers are set to make history after all four named in 19-man squad
The Burgess brothers are set to make history this weekend after all four were named in South Sydney's squad.
Last Updated: 27/08/13 10:06am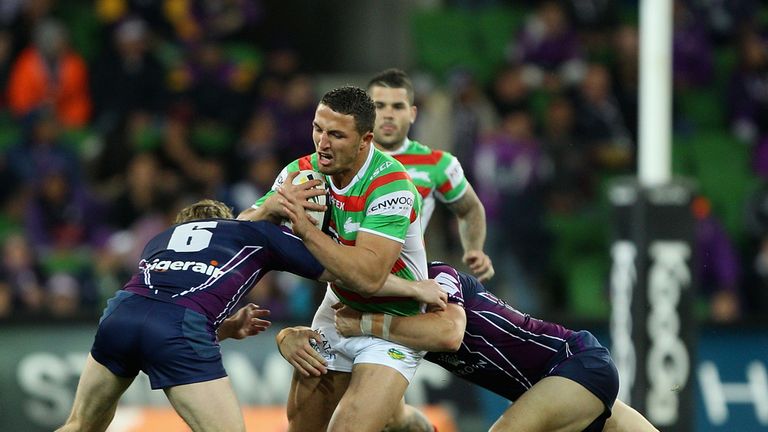 Luke, Sam, George and Tom Burgess have all been named in the 19-strong South Sydney squad for the NRL match against Wests Tigers at Allianz Stadium on Friday.
If they all feature it will be the first time since 1910 four brothers have played in the same side in the top grade.
The last four to achieve the feat were the Norman brothers - Ray, Roy, Rex and Bernard - from the defunct Annandale club early last century.
Sam Burgess' return from suspension this week opened up the way for all four Dewsbury-born players to line up together.
Sam and Luke have played alongside twins George and Thomas on separate occasions but the quartet are yet to be united in the same team.
"The idea of us all being in the same team, it's something we've spoken about quite a bit," Sam explained earlier this year. "Up until this year, though, it's not been possible because we've been split up at different clubs.
"I've played with all my brothers at different times, played in a team with George and Luke, and now with Thomas too - but, together, that's the one thing we still have to do.
"I know people are curious and it's definitely been a goal since we were kids. In terms of the whole history thing, it would be a really cool record to have. It's going to happen here at Souths - it's just a matter of when."
Souths' former Wigan coach Michael Maguire told the club's official website: "To have the four Burgess boys all together means it's a massive day for the club.
"They're individuals amongst our team that bring the family together. It's exciting to be able to be a part of a game like this where the four brothers come together.
"They're an integral part of what we're doing, along with everyone else. We just want to give then a great opportunity to play amongst the team and play well."