Super League: Former Bradford full-back Curtis Naughton joins NRL's Roosters
Teenage full-back Curtis Naughton says he had no choice but to leave Bradford to join Sydney Roosters.
Last Updated: 31/10/13 3:06pm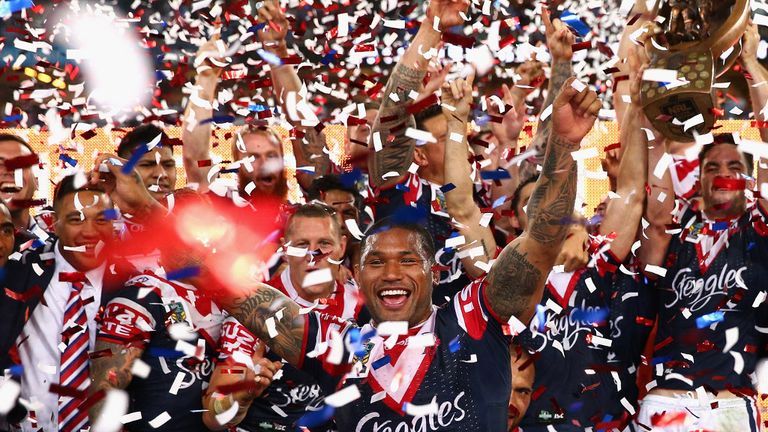 The 19-year-old, an underage star with England Schoolboys, spent most of the first year of his professional contract in 2013 kicking his heels before making his first-team debut in the final match of the season against Huddersfield Giants.
Naughton was released from the deal in October in order to emigrate to Australia with his family and revealed he had interest from six National Rugby League clubs before plumping for champions Sydney Roosters.
"This is what I've always dreamt about," Naughton told Sydney's Daily Telegraph. "It's just come about a bit sooner than I expected."
Naughton confirmed he had fallen out with Bulls coach Francis Cummins before his departure but was desperate to follow fellow Dewbury-born English players, South Sydney's four Burgess brothers, down under.
"Playing in Australia has always been my goal," Naughton added. "So while I'd signed with the Bulls for three years, when all the stuff started happening I thought to myself 'OK, let's go now'."
Asked what that "stuff" was, Naugton said: "I wasn't getting played in first grade when I should've been.
"They (the coaching staff) had signed me to be part of the full-time squad. But why? They weren't playing me.
"I didn't know why last year and I still don't know because no one ever told me. Plus being stuck in the Academy team, which is like an under 19s competition, it just didn't feel like my game was improving.
"So I left. I'll be playing in the Holden Cup next year which I'm really looking forward to because it will be a real step up.
"And from there, I just want to keep improving. I've played a game in the English Super League and my goal is definitely the NRL."