Ben Flower says Autumn International Series clash with France is a 'massive challenge'
Ben Flower accepts that Wales will be underdogs against France in the Autumn International Series opener on Saturday.
Last Updated: 18/10/12 7:17pm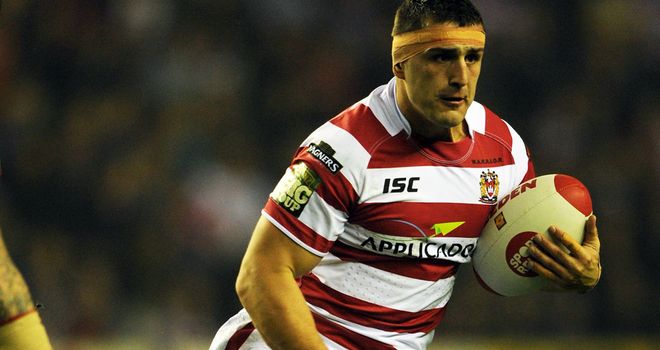 France coach Aurelien Cologni is able to pack his side with Super League experience, with no fewer than 17 of his 19-man squad being past or present Catalan Dragons players.
Flower is one of just five top-flight regulars in Iestyn Harris' 19-man squad, which also contains seven part-timers, but he says they will be undaunted by the size of their task.
"It's going to be a massive challenge for us. They're a big physical side but they haven't got pride like we've got," Flower said.
"Pride is a massive thing in our team. We've got a real young side but it's enthusiastic and the sort of side who are not going to give up.
"We're going to give it to them for 80 minutes and, if we come away with a win, that will be absolutely fantastic. But, if we don't it's going to be a game that they know they've been in."
Flower can draw encouragement from Wales' last visit to France, which ended in a shock 12-11 win for the visiting side in the European Cup decider in Albi to qualify for the 2011 Four Nations.
"It was the best feeling in the world, knowing we'd be coming up against the best players in the world the year after," Flower added.
"That was a bit daunting but, if you ask any of those three teams, they would say they were in a game with Wales. We played as well as we could and it was a tough battle for them."
Cardiff-born 24-year-old Flower is already one of the senior members of the Welsh squad and on the four-man leadership group from which Harris will announce his new captain tomorrow.
He won representative honours in rugby union at junior level but has been a regular in the Wales rugby league team since making his debut in 2008.
"It's my fifth year with Wales and, from when I first started four or five years ago, you can see how much it's progressed," he said.
"Last year in the Four Nations people were writing us off but I thought we played with a lot of courage and pride in those games.
"I'm the proudest Welsh person you'd ever meet. I love playing for Wales. It is a real honour to be part of this and it is only getting better as well, which is great."