Wales forward Ben Flower ready for physical encounter against England
Wigan forward Ben Flower is warning England that Saturday's international against Wales will get "feisty".
Last Updated: 24/10/12 6:41am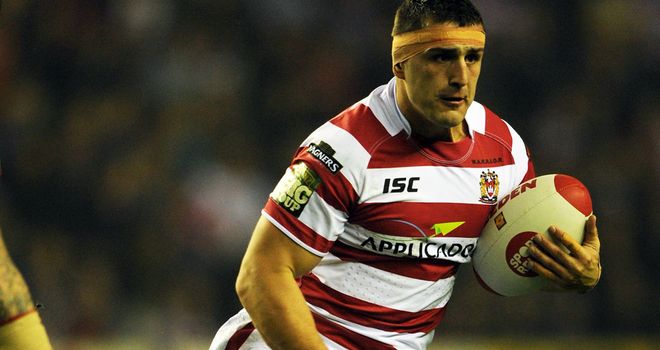 The Welsh were involved in a full-blooded encounter affair in Lens last Saturday as they suffered a 20-6 defeat to France - with Gil Dudson's late tackle on France half-back William Barthau sparking a free-for-all.
And Flower is anticipating another physical battle with Steve McNamara's men at the Racecourse Ground in Wrexham.
"That's part of rugby, to be honest," Flower said. "A good old scrap doesn't hurt anybody. We had a laugh and a joke with the French boys afterwards. There's nobody holding any grudges.
"It will be feisty again on Saturday and that's how we like it, a bit of rough and tumble."
The battle between Flower and Dudson and their Wigan team-mates Lee Mossop and Sean O'Loughlin could go a long way to determining the outcome as Wales go in search of their first win over England for 17 years.
"It will be good to play against Lee, I'm good mates with him," Flower said. "It will be a bit strange because I've never played against my club-mates before. When I was with Crusaders, they were mostly Welsh team-mates.
"It will be interesting to come up against the likes of Sean O'Loughlin, Lee Mossop, Josh Charnley and Sam Tomkins if he plays."
Massive
The Welsh need to spring an upset if they are to reach the November 11 final of the autumn series - but, win or lose, Flower is confident they are making progress on the road to the 2013 World Cup.
"There were definitely some great positives from the France game and the big thing for me was the way the young kids played," he said.
"But there are a few areas we really need to improve on and we've already started to work on them.
"It's going to be a massive ask again. We've got boys under 20 and some amateur players coming up against some of the best players in the world.
"But we're not going to be taking a backward step. We hope to give them a good run for their money.
"If we win, that will be great, but if not we're looking for a great performance and we'll build on that."