Hardaker targets Wembley impact
Leeds' Zak Hardaker spent the duration of last year's Challenge Cup final in the stands but is planning on playing a major role this time around.
Last Updated: 22/08/12 4:06pm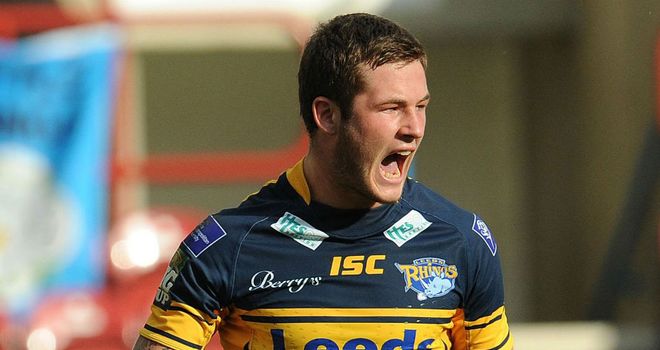 Leeds Rhinos back Zak Hardaker spent the duration of last year's Challenge Cup final in the stands but is planning on playing a major role this time around.
The 20-year-old was not selected by coach Brian McDermott for the 2011 loss to Wigan but, so excited was he to even be at Wembley, he spent the afternoon storing as many memories as he could.
He has since gone on to become a regular starter in the Rhinos' side, though, and in Saturday's showpiece against Warrington, he is going to have to leave filming duties to someone else.
"I didn't get to play last year, I was in the 19-man squad and that was brilliant in itself," he said.
"I remember being massively buzzing. I captured most of it on my iPod and I was looking back at it the other day, thinking how funny it was because this time I will be the one someone is filming.
"I might have to get my mum to do it in the stands, as she is just as excited as I am."
Meteoric
Hardaker's enthusiasm is understandable given his meteoric rise to the top.
Just three years ago he was playing for amateur side Featherstone Lions but now sits as a Championship Grand Final winner with Featherstone Rovers, a Grand Final and World Club Challenge winner with Leeds as well as an England international.
His attitude off the field as is fearless as the one he displays on it, though, and he is not willing to sit back and reflect on his journey just yet.
"I have got shirts and medals from when I was at Featherstone and I have got them all hung up on the wall, next to my Leeds ones, and it's funny to think I was there and now I am here," he said.
"It won't hit me for another three or four years when I think about where I have come from. People tell me to pinch myself but that can wait for three or four more years when I have a few more games under my belt."
Hardaker does not resent McDermott for leaving him out against Wigan either, admitting that it was for the best as, had he made a big-stage mistake, his career may not have continued on an upwards trajectory.
"I was disappointed but I was young with not many games so I could have played and dropped a bomb and that could have ended my career because sometimes it happens," he said.
"It was right what Bri did, he fed me in nice and slowly and it's not too bad for him now. I'm really enjoying it, taking it on board, learning and I will continue to do that for as long I play in games like Saturday's."
Confidence
Confidence has been a hallmark of Hardaker's game since he broke in to the Leeds side, with his ability to switch positions making him a useful weapon for McDermott to have at his disposal.
Although more at ease in the centres, he has deputised at full-back and on the wing this season, with his natural talent out of kilter with someone who only started taking the sport seriously some six years ago.
"I have always liked rugby league but when I was younger I preferred to be out in the bushes playing tig and hide and seek," he said.
"It was only when I was 14 that I sat down and properly started taking rugby league seriously. I went to Cardiff in 2005 for Leeds' cup final against Hull and I was there cheering with a big Leeds flag.
"It's weird to think how that little kid looking down is now a 20-year-old running out in a final, but it will be good fun. That's one thing that's quite good about me, I'm young and I enjoy the big crowds.
"I'd rather play in front of 80,000 than 20,000, knowing that the pressure and the beady eye is on you. I like it, pressure-wise I've got that wrapped up. Saturday is going to be an occasion that I will treat as every other game and take it in my stride."