The talk of Sky Sports
See what has got the Sky Sports experts' tongues wagging over a busy seven days in sport.
Last Updated: 14/11/12 2:32pm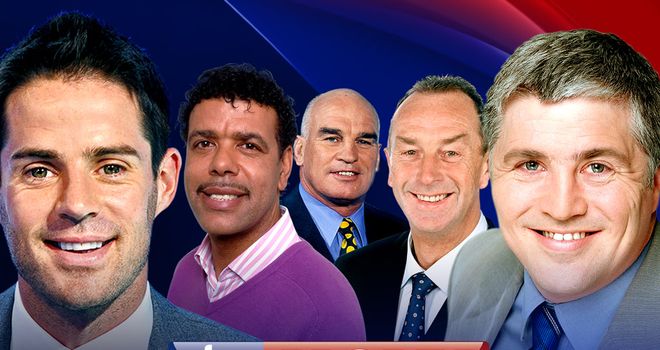 For the best in up-to-the-minute sports analysis, look no further than skysports.com, your online home for expert opinion.
Whatever your sport, our team of pundits, columnists and bloggers are here every week to bring you the sharpest views and the shrewdest comments on the latest developments.
Some of the most respected names in the business, including Jamie Redknapp, Stuart Barnes, Stevo and Paul Merson deliver their views with their expert columns, while we also have blogs from the likes of David Lloyd and Jeff Stelling.
Here's a snapshot of what the experts have been saying over the last seven days...
"The vibes I'm getting are that Nick Compton will get the nod over Joe Root at the top of the order to begin with. After a couple of early setbacks, Compton looked fairly assured in the second innings against Mumbai A and at present is in pole position to make his Test debut. Personally, I'd prefer to see Jonathan Trott promoted to opener (even if he himself has all but ruled it out."
England must find the right balance for the first Test, says Bob Willis.
Taken from 'Options still open'
"Granted England have home advantage for all these games but they are still expected to produce at least two wins from the big three games as well as an initial victory against Fiji this Saturday. To achieve this, the side will have to deliver a lot more than it has thus far. If it beats two of Australia, South Africa and New Zealand England will take a stride towards a top pool seeding in the 2015 World Cup.""
England must be brave and bold against the world's best this Autumn, says Stuart Barnes.
Taken from 'Judgement time'
" I don't reckon Lee is chipping and putting badly because he is at a low ebb mentally - he hasn't got the yips - I think it's because the technique doesn't come naturally to him; he doesn't find the process easy. He is so methodical and creates lovely pictures in his head about where he wants the ball to go, but just can't seem to manoeuvre it around the greens as well as some of the other top players."
Lee Westwood must improve around the greens if he is to snare an elusive Major, says Rob Lee.
Taken from 'Coming up short'
"Villa scored again at the weekend and is almost ready to play a full match. He has been desperate for more than a month now to play 90 minutes. Obviously Tito Vilanova thought that he was not ready, and according to the doctors and surgeons, the Barca manager has judged it cleverly by giving him minutes. Now Barcelona can add a striker, even though he plays wide, to their weapons."
Guillem Balague blogs on David Villa's remarkable return and the power struggle in Madrid.
Taken from 'A lucky break at last'
" I think the standard of refereeing has been very good in boxing for a long time and a lot of that is down to the mutual respect shared between referees - many of whom, like Richard Steele and the late Harry Gibbs, I got to know personally - and fighters. Plus, referees are often ex-fighters themselves so have a deep understanding for what these guys are doing and the dangers they are facing."
Glenn McCrory looks at the rapport between boxers and referees, and Larry Ekundayo's Prizefighter win.
Taken from 'A little respect'
"Griffiths is on loan at Easter Road until January from Wolves, but Wanderers boss Stale Solbakken has already indicated that the 22-year-old won't be part of his plans and he's happy for him to pursue his career away from Molineux. Hibs are renowned for running a tight ship but it would be madness if they didn't secure his services on a permanent transfer."
Andy Walker says Hibernian must tie on-loan Wolves hot-shot Leigh Griffiths to a permanent contract.
Taken from 'Sign him quick-Leigh'
"During the Premier League era, no manager has picked up as many as 28 points in his first 10 games in charge. The record is in fact held by former Chelsea caretaker manager Guus Hiddink who achieved 25 points from his first 10 games in charge of the Blues. He secured wins against Aston Villa, Wigan, Portsmouth, Man City, Newcastle, Bolton, West Ham and Fulham. His only defeat was at Tottenham and he also dropped points in a draw with Everton."
The Premier League has nothing to touch Tito Vilnaova's 28-point start to Barcelona's season.Martin Tyler's back to answer your questions and wow you with stats.
Taken from 'League of Nation'
"Celtic's victory over Barcelona got me thinking - where are the truly great defenders in our game? When you reflect on some of the scores and some of the defensive performances that we've seen from Premier League clubs in domestic and European competition this season, you have to wonder. Right now I reckon that United, City, Arsenal and Chelsea all need - or will need in the near future - a rock-solid central defender because they all have problems in that area."
Are there any truly great defenders in the Premier League? A concerned Jeff Stelling has his doubts...
Taken from 'Challenging times'
"Compton has the experience and if everything goes brilliantly then you'll get five years out of him, but if you've identified the right player then you could get 15 years out of Root. I actually don't think this is a bad place to make your first Test start. Test matches in India tend to be armchair viewing with supporters turning up for the one-dayers instead, so the grounds won't be packed. Plus he would be coming into a decent team."
Bumble blogs on the Compton-Root debate and why India won't find things as simple as they think...
Taken from 'The Root route?'
"One player doesn't make a team but David Silva's absence has definitely had an impact. Even before his injury the Spaniard wasn't hitting the same heights as last season but when games are tight you just need someone like him to unlock the door and play that pass only a few players in football can see. They really need to get him back and firing. Tottenham, on the other hand, come to the Etihad on the back of a surprising defeat to Wigan. Boss Andre Villas-Boas raised eyebrows when he took off Jermain Defoe for Emmanuel Adebayor, despite Spurs trailing and that seemed like a really strange decision to me."
Issues on and off the pitch are affecting Man City and Spurs' visit will be a tough test, says Jamie.
Taken from 'City must step up'
"Derek McInnes and his team are on a disastrous run of six defeats on the spin after conceding two more goals on Tuesday night to a Birmingham side who had scored only five goals in their previous seven home games. Just to highlight City's deficiencies, Birmingham, who clinched their first home win in five, had 20 shots at goal and McInnes described the performance as embarrassing for himself, the players and fans who were subjected to it. One point off the bottom and four from safety is not a surprise as a lot of their frailties were there last season."
Peter Beagrie blogs on Bristol City's struggles, Ian Holloway's Palace switch and the back-three system.
Taken from 'Robins cooked?'
Click here to read more of our pundits' opinions.