Grand Final guide
The battle for the Super League title sees just two teams left standing. On Saturday, at Old Trafford, Warrington and Wigan will go toe-to-toe to find out who will be crowned champions in 2013.
By Rob Lancaster
Last Updated: 04/10/13 11:00am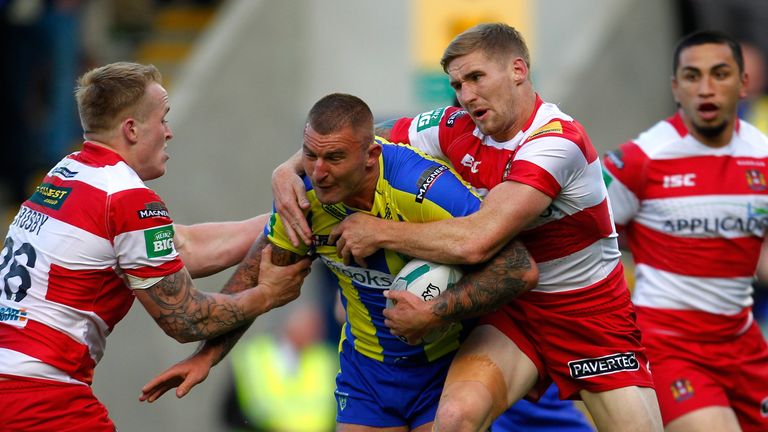 Offer your predictions for the weekend by filling in the feedback form at the bottom of the page. Who do you think will be smiling when the full-time hooter sounds?
THREE REASONS TO BE HOPEFUL - WARRINGTON
1-Past form
The bare numbers make great reading for the Wolves - they have not suffered a league defeat at the hands of the Warriors since February 2010, when Amos Roberts (remember him?) scored two tries in a 22-20 reverse at the Halliwell Jones Stadium. Since then Warrington have had the upper hand, with the two sides fighting out a 17-17 draw at the DW Stadium in round two this year before Tony Smith's side won the second meeting by a 22-12 scoreline in June. While past results will count for nothing once the game kicks off, there is no doubting Warrington have a slight psychological edge in the build-up considering their recent dominance. It could also be important to note that the canny Smith has rotated his squad throughout a tough regular season with the aim of having them fit and fresh for the play-offs.
2-Big up front
Apparently size matters in Super League, and Warrington have plenty of if. Their pack is powerful to say the least, and the forwards were outstanding in the qualifying semi-final triumph over the Huddersfield Giants (as Lee Briers pointed out in his post-match interview on Sky Sports) and will once again look to get their team on the front foot. It says much about their strength in depth that they are able to throw props of such calibre as Garreth Carvell and Adrian Morley on from the bench - the duo will be eager to sign off their careers with Warrington with a win before moving on to Bradford and Salford respectively. Ben Westwood is an ever-willing runner from the second row and the Wire will hope to have second rower Trent Waterhouse available; the Australian sat out the Giants game but is a real play-maker out wide.
3-Briers' boot
He may be 35 now, but the former Wales international is still the crucial player for Warrington in attack. Other teams may target him when they have the ball in hand but few are better at picking open opposing defences when in possession, particularly when it comes to the kicking game. His boot has set up hundreds of tries (that is not an official statistic, just a rough guess) over the course of his career, the latest assist coming when he delivered a bomb out to the left that Ryan Atkins was able to catch and finish against Huddersfield. A neck injury during the first half of the season has kept him fresh for the big occasion and Wigan will know that cannot afford to give the half-back time and space to kick them into submission. Sam Tomkins summed it up perfectly during the build-up by simply saying: "Lee Briers pulls all the strings."
THREE REASONS TO BE HOPEFUL - WIGAN
1-Last hurrah
The showpiece this weekend will see several players pull on the Cherry and White shirt for the last time (for a while, at least). Pat Richards will be eager to end his career in England on a high, and also determined to erase the memory of a 2010 Grand Final appearance that was cut short by a serious injury, while Lee Mossop has one more 80 minutes to complete before he heads off for Parramatta. However, all eyes will understandably be on Sam Tomkins. Before the semi-final win over Leeds the worst kept secret in rugby league was finally confirmed - the full-back would be heading to the New Zealand Warriors for 2014 and beyond. Wigan have made sure they have first refusal on signing their star back, but it seems quite possible it will be some time yet before Tomkins turns out in Super League again. There would be no better way for him to end this chapter of his career than as a Grand Final winner with the team where he came through the ranks.
2-Captain fantastic
It seemed Tomkins would get the chance to skipper Wigan for his swansong, but Sean O'Loughlin was declared fit to lead the Warriors into battle. The loose forward has not played since lifting the Tetley's Challenge Cup at Wembley in August due to a problematic Achilles injury. He admitted to Sky Sports earlier this week he was not a good watcher having sat out 10 of his team's last 11 matches, so hearing a specialist declare him fit on Monday must've been a huge relief. Such was his form earlier in the season that he made the final three for Super League's Man of Steel award. Warrington boss Smith spoke at the start of the week about how he expected O'Loughlin to be on the field, and so it proved. While he may be a little rusty and a little lacking in physical fitness after such a long lay-off, the England international offers his team a steady hand and will lead by example, particularly in defence.
3-Fond memories
As mentioned above, Warrington have held the upper hand in recent times against their near neighbours. Yet while they will hope that trend continues for one more match, they will also have to try and clear their mind of any mental scars from last year's Grand Final defeat to Leeds at the same venue. Wigan, in contrast, have much better recent memories of travelling to the home of Manchester United. Their last appearance there came in 2010 when they lifted the trophy, two tries from Martin Gleeson, against his former club, seeing them past St Helens. While plenty of that championship-winning squad have since moved on (along with the coach, Michael Maguire), there are still enough survivors at the club to tell the newcomers all about the Grand Final experience. It should also be pointed out that the Warriors have won on their last two visits to Wembley, suggesting they relish the chance to appear on the big stage.
KEY BATTLES IN BRIEF
Michael Monaghan v Josh Charnley: The best word to sum up these two wingers? 'Prolific'. Want a few more than that? How about 'very, very prolific'. If chances come their way, they will snaffle them up faster than you can say 'Manly Sea Eagles' Jared Waerea-Hargreaves'. The pair have combined for 58 tries so far this season playing for their respective sides.
Mickey Higham v Michael McIllorum: Two hookers who are always dangerous around the tackle area, particularly challenging the defensive line with ball in hand. McIllorum has been selected in England's 24-man World Cup squad, but Higham has been in outstanding form of late for the Wolves.
Richie Myler v Matty Smith: A knee injury in August threatened to cut short Myler's season, but he returned in the semi-final triumph over the Giants. Smith, meanwhile, has been sensational at scrum-half for Wigan. Appeared in the 2010 Grand Final for St Helens, losing out to his current employers. Will be keen to make sure history isn't repeated.
Liam Farrell v Ben Westwood: Expect both to run their blood to water in pursuit of victory. Don't be surprised if they pop up with a try. The two second-rowers - who both look like they've already run a marathon within the first few minutes - were selected in England's squad, so national coach Steve McNamara will be watching them closely.
Subs v subs: Warrington will have plenty of experience on their bench, with Michael Monaghan again likely to sit alongside Morley and Carvell amongst the replacements. Wigan, in contrast, will turn to youth to change the game - hooker Logan will be extremely keen to remind all watching that there are two players called Tomkins in action.
FINAL SQUADS
Warrington: Atkins, C. Bridge, Briers, Carvell, Cooper, Grix, Harrison, Higham, Hill, Hodgson, J. Monaghan, M. Monaghan, Morley, Myler, Ratchford, C. Riley, Waterhouse, Westwood, Wood.
Wigan: Charnley, Crosby, Dudson, Farrell, Flower, Gelling, Goulding, Green, Hansen, Hughes, McIlorum, Mossop, O'Loughlin, Richards, Smith, Taylor, Thornley, L. Tomkins, S. Tomkins.
EXPERT'S VIEW
Phil Clarke recalls the last time Warrington and Wigan met in a major final, and also pinpoints out the attacking instincts of the pair...
"Wigan will need to limit the quick play-the-balls that the Wolves feed off. They play more ad-lib, typically offload twice as much as Wigan and roll down the middle until they feel they've created the space out wide, especially for their right winger, Joel Monaghan.
The Warriors are still scoring the same sort of tries that they did in the 2010 Grand Final. If you can recall, the first two tries scored that night by Martin Gleeson were exactly the same as the ones that they've scored so often this season. They encourage as many players as possible to run in two waves of attack and create time and space for their outside backs.
They've scored the most long-range tries in Super League this season and they aren't afraid to attempt to strike from within their own half. Recently though, the top teams have become aware of this and rush up to close it down. If they don't get there in time, they'll need a motorbike to catch Sam Tomkins when he goes through the line."
Read his full blog by clicking HERE
Watch the Grand Final LIVE on Sky Sports 2 HD from 5pm on Saturday. You can also see the drama unfold with SkyGo, or go online to read our interactive blog on the action from Old Trafford